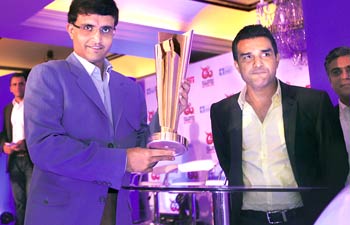 Former India captain Sourav Ganguly doesn't believe in picking favourites but is sure the Mahendra Singh Dhoni-led team has the wherewithal to challenge any country in all three formats of cricket. He feels the next month's World T20 tournament will be no different. Ex-India batsman Sanjay Manjrekar, too, feels India is a "bloody good side", but he also pointed out that at least six teams are capable of winning the title as the T20 format provides more scope to lesser teams to excel. "There'll be surprises," he predicted.

They expressed their opinions on a variety of issues - from the inclusion of spinners Harbhajan Singh and Piyush Chawla to the comeback of left-hander Yuvraj Singh at a press meet where the T20 World Cup trophy was also displayed here on Tuesday. "India will always have [good] chances in any format. They have got the team to win the title," Ganguly pointed out. "India have match winners like Dhoni, Kohli, Gambhir and Sehwag, who can clear the boundary at will."

India are clubbed with England and Afghanistan in Group A, and after the league phase two teams will qualify for the quarter-finals, called Super Eights, in the tournament that runs from September 18-October 7. Manjrekar termed India as a "bloody good" team, but predicted that surprises were in store. "Five or six teams are likely to win it," he said. "In T20 format, weaker teams have a better chance of beating stronger teams. There's a lot at stake, and we've got to be at our best from the start." He felt that the short duration of the tournament also makes it more competitive.

Harbhajan, 32, makes a comeback to the national team after disastrous tours of the West Indies and England last year. Though his poor form continued at the start of his stint with Sussex in the English county competitions, he has lately shown signs of returning to form. The Punjab slow bowler has direct competition with the preferred offie R Ashwin - who plays for the Chennai Super Kings, led by India captain Dhoni - if not so much from leg-spinner Chawla.

Ganguly, who backed Harbhajan wholeheartedly during his captaincy, said that even today he is among the top three off-spinners in India. "You can call it my bias or love for Harbhajan but if you are picking three best spinners in the country, he's got to be among them. Harbhajan is one bowler who should be playing all three formats of the game."

Ganguly said that the K Srikkanth-headed selection committee should have kept Harbhajan out of the team for a maximum of six months. "I still believe one year was a bit too long time to keep Harbhajan out of the Indian team. The board should have spoken to him and told him that 'look we are giving you six months' time to sort out your bowling'," he felt. "You can't keep a bowler like him in domestic cricket for too long. If you have played for the country for 12 years, you are bound to have one bad season. But he has got [nearly] 700 international wickets, which is no mean feat."

It, however, remains to be seen if Dhoni picks Harbhajan ahead of Ashwin. Yuvraj is back after recovering from cancer and Ganguly said that an indication of his match fitness could be ascertained in the upcoming T20 Internationals against New Zealand at home. "Personally, I'll not say that I'm not worried about his health," he said.