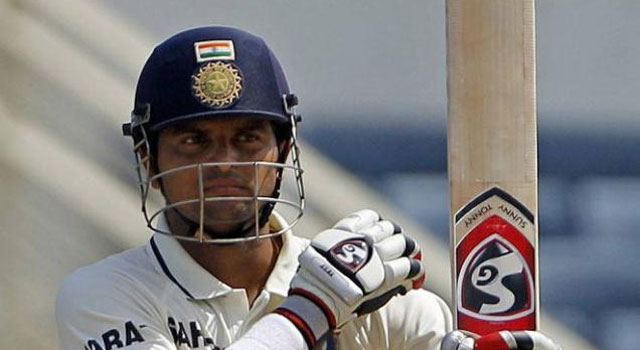 Feroz Khan VVS Laxman's retirement from international cricket has left the Gentlemen's game with a void that will only take another of his ilk to fill it. His style of wielding the willow made watching Test cricket a sumptuous affair akin to a painter applying his delicate brushwork on a canvas. Waxing lyrical apart, the departure has left the Indian team with a challenge to find an apt replacement for him in the longest format of the game.

ALSO READ: Can the Kiwis solve spin puzzle?» Laxman has juggled through the batting order in his entire career that lasted 134 Tests, shifting up and down as per the need. On several occasions, he shepherded the team out of trouble while batting with the tail-enders. It was his presence at the No. 6 position that gave an assurance to the team that even after the first two lines of defences have been breached Laxman would be there to take the battle to the enemy all by himself.

However, it was Sourav Ganguly's retirement that actually triggered the tinkering with the batting order as his absence originally left that place vacant. Although, majority of his innings (99) came at No. 5 but still he did spend a significant portion (47 innings) of his Test career there scoring 1,725 runs at 41.07. As the figure of elegance began ageing, administrators began searching for his replacements. The options came in the form of Yuvraj Singh and Suresh Raina.

Yuvraj, made his Test debut for India three years later in 2003 after he began his ODI career against Kenya in Nairobi. He came in place of captain Sourav Ganguly for the Mohali Test. Interestingly, when Suresh Raina began his Test career he was called in to replace an unwell Yuvraj. Both are left-handers, brilliant fielders, and useful part-time spinners. They came to bat in at the No. 6 spot for their first innings. The similarities end here. Or do they?

Yuvraj made 20 while Raina became only the twelfth Indian to record a century on Test debut in July 2010. However, Yuvraj didn't have to wait long for his first Test ton which came in his third match against archrival Pakistan in Lahore. In Cheteshwar Pujara and Virat Kohli, India look to have found successors to Rahul Dravid and Sachin Tendulkar in Test arena. However, the impasse over Laxman's slot still continues.

Raina and Yuvraj are yet to cement a permanent place in the five-day format. The former after playing in 16 Tests averages a dismal 28.52 while the latter averages close to 39 in 37 matches. However, the focus here is their performance at the No. 6 spot—a position that often requires a saviour with an inherent ability to keep a cool head under extreme pressure. Raina averages 34 while Yuvraj 38.83 when playing at this position. Compare this to Laxman who averaged 50.18.

Raina's recent failures with the bat and Yuvraj's absence from the cricketing scene due to illness make a strong case for Ajinkya Rahane and S Badrinath to be given a chance in the senior team. Both have scored prolifically in the domestic circuit. Another way to deal with this is to bring Virender Sehwag down the order as he has expressed his willingness to bat in the middle in the past and allow Rahane to open the innings. It is better to experiment now as the team hosts New Zealand and then England in November before flying to South Africa for a stern test.