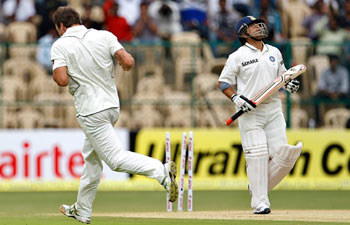 The Bracewells of New Zealand can boast of an unique achievement as two cricketers from the family have now dismissed Sachin Tendulkar in Test cricket over a span of 22 years. On Saturday, New Zealand seamer Doug Bracewell bowled Tendulkar through the gate for 17 with India tottering at 80 for four during India's first innings on the second day of the second Test match being played here.

Interestingly, it was Bracewell's uncle and former off-spinner John, who also had the distinction of dismissing Tendulkar in a Test match almost 22 and half years back. John, who played 41 Tests for New Zealand during the mid 80's to early 90's, dismissed Tendulkar for 24, caught by wicketkeeper Ian Smith.

The match was played between February 2-5, 1990 at the Lancaster Park in Christchurch, and India lost the Test by 10 wickets. The piece of statistic merely shows the longevity of Tendulkar, who has completed 23 years in international cricket, having made his Test debut in 1989.