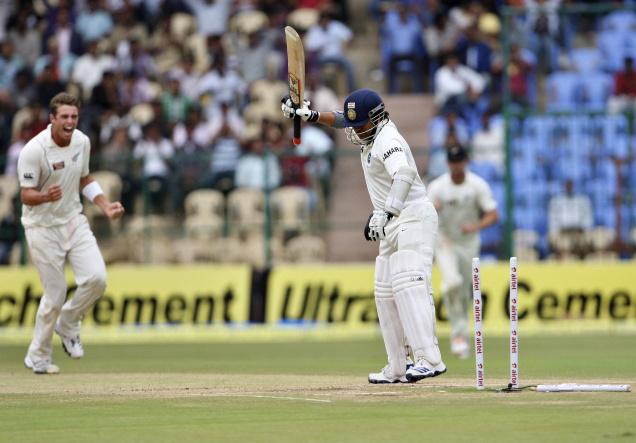 Surprising as it may sound, senior Indian batsman Sachin Tendulkar's defence has been breached three times in a row in the ongoing Test series against New Zealand. After being bowled in the first innings of the first Test in Hyderabad and the first innings here, Tim Southee made it three in a row when he disturbed Tendulkar's middle stump on the fourth day of the ongoing second Test.

Revered worldwide for his record-breaking feats and his sound technique and temperament, the veteran batsman's campaign in the two-match series got off to a poor start after Trent Boult cleaned him up for just 19, uprooting the middle stump in the first Test, and it continued in the second match here.

Doug Bracewell went through Tendulkar's defence after he left a gap between his bat and pads in the first innings of the ongoing match. Tim Southee then piled on Tendulkar's agony as the Kiwi pacer knocked the middle stump after clipping his pad with a delivery that came back into the right-hander. That Tendulkar was playing across, did not help the batsman's cause.

The batsman seemed quite frustrated with himself as he raised his bat in anger at the stumps. Tendulkar, who has scored 15,489 in 189 Tests for an average of 55.31 prior to this match, has now being bowled 51 times in Test cricket. Rahul Dravid (55) and Allan Border (53) top the charts.