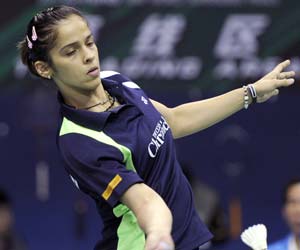 Ace shuttler Saina Nehwal on Thursday said that she will give Rs. 2 lakh as a token of appreciation to H N Girisha, who has won a silver medal in the ongoing London Paralympics. Girisha, who has an impairment in his left leg, won the medal in the men's high jump F42 event after clearing 1.74 metres on Monday.

Besides Saina, who has bagged a bronze in the London Olympics last month, the Karnataka government has announced a cash award of Rs. 20 lakh to the athlete. Sports Minister Ajay Maken yesterday announced that Girisha will be offered a job with the Sports Authority of India.

"Paralympic silver medalist Nagaraj to be offered a job of coach in Sports Authority of India at an officer level!," Maken had said on his Twitter feed. The announcement came a day after Maken said the ministry would award the 24-year-old high jumper with Rs. 30 lakh.