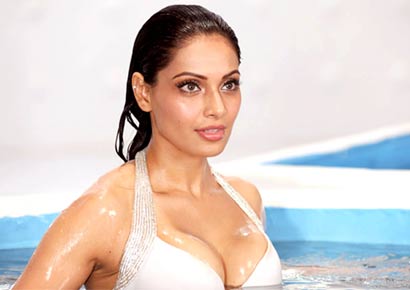 The one thing I can tell you about Raaz 3 is that it never gets boring. A few half-spooky scenes,unintentional hilarity, daft dialogues (written by Shagufta Rafique) and the spectacularly bad acting keeps you entertained for the most part. But the side effects cannot be ruled out – severe headache from those 3D glasses, for one. And a general state of dizziness and mind-numbness from taking in all that Raaz 3 has to offer.

The Bhatt brothers, Mahesh and Mukesh, are probably the most stagnant lot in B-town currently. Their horror films resemble the horror films they made years ago. Their erotic thrillers are a poor clone of similar films they made in the past. Back in their fold is former protégé Vikram Bhatt (not related), who branched out to make some forgettable films before making last year's most awful but unintentionally entertaining masterpiece – Haunted 3D. Raaz 3 has an edge over Haunted 3D in the sense that it's not as stupidly absurd – in the latter, a ghost raped a living person; in the former a ghost has consensual sex with a human. That little improvement apart, there is a scant change in sensibility.

Raaz 3 has every ingredient used in an Indian horror film before – black magic, superstition, the battle of good vs evil and the eventual victory of, well, 'love'. The formula was perfected in Raaz ten years ago by the same team; the sleeper hit made the Bhatts' banner, Vishesh Films, a force to reckon with for years to come. They made similar small-budget films with a generous dose of nudity, lilting music and, occasionally, spooks, many of which met with varying success at the box office. The fatigue, however, is showing now.

Watching Raaz 3 is like being at a magic show where you've figured out the magician's sleight of hand; you see the show unfold, already knowing how each trick will exactly play out. Bereft of the surprise factor, then, Raaz 3 tries to pack in a little too much around a plot that had potential to work without the excess – an actress past her prime, Shanaya (Basu), makes use of black magic to torment her competitor, the young star Sanjana (Gupta). But tantrik babas, midnight other-worldly rescue missions and corny ghosts spoil the party.

As filmmaker Aditya Arora, Emraan gets to kiss both the girls for long amounts of time, say "chu****pa" at one point, and fight off a creepy-looking monster in the film's climax. In other words, his fans should be sufficiently pleased. Esha Gupta's will be the role actresses in future corny B-grade horror films will refer to for lessons on screaming while keeping make-up intact. Bipasha comes across as desperate to make a mark in her meatiest role since Raaz, just like her character in the film. She does what every hard-working, committed-to-her-craft female actor in her place would have done – show ample skin. Raaz 3, then, will leave you haunted and scarred in ways black magic can't. Wait for the DVD and watch it with friends, drunk.