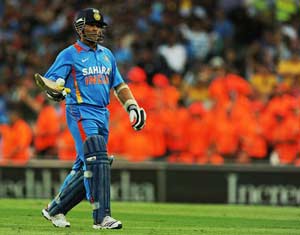 It can't be easy being Sachin Tendulkar. At an age when kids must have fancied an ice-cream, a quick dash to the movie hall during school hours or an evening out just killing time and having fun with friends, Tendulkar had already made the step up from boy to man, dedicating himself to cricket. His life has revolved around cricket for three decades now - that's more than three-quarters of his time on the earth - and for a majority of that period, he has been under intense, occasionally unforgiving, scrutiny.

Boy wonder when he made his India debut at 16, Tendulkar has long since graduated to mature adult. The passage of time and a multitude of injuries which have ravaged nearly every part of his body have necessitated changes to his style of batting, but the one constant has been the weight of expectations that Tendulkar has managed to carry with aplomb for so long, without complaint or visible signs of irritation.

Tendulkar has remained the ultimate symbol of Indian batsmanship, a source of joy and succour, of permanence and dependability. During his worst phases with the bat - and for someone who has been plying his wares at the highest level for some 23 seasons now, those have been remarkably minimal - he has remained outwardly calm and focused even if the demons have been eating away at the insides. He has fed off a frenzy of goodwill and roused himself to shed the shackles imposed by injuries, advancing years, opposition game plans and his own fallibilities.

For the last year or so, however, people's perceptions have slowly begun to change. It would appear as if the aura that surrounded him is gradually diminishing, the halo beginning to fade somewhat. There is still that air of expectancy when he goes out to bat, but increasingly, the air is also tinged with uncertainty, tension, perhaps even a touch of nostalgia. And that can never be a good thing, not when the one we are getting nostalgic about is still an active practitioner of his craft.

As a people, we are very accomplished at deciding what other people ought to do. Which is why we feel that Tendulkar ought to have retired from the one-day game immediately after he fulfilled an avowed dream - to be a part of the World Cup-winning squad. That Tendulkar has since picked and chosen his limited-overs outings has lent further grist to that mill.

Tendulkar himself has ruled out immediate retirement, insisting that he will go out on his own terms, and that he will continue to play on till such time that he is enjoying himself. Which is fine when that enjoyment translates itself into runs and meaningful contributions in winning causes. It's when he fails to match the demanding standards he has established over so many years that eyebrows are raised and tongues start to wag.

Any way you look at it, Tendulkar is a victim of his own standards. For so long now, he has delivered time after time, innings after innings, that every time he goes out to bat, he is expected to score - score hundreds, that is. His last international hundred, it must be remembered, came in the Asia Cup in March this year, when the long wait for his 100th international century finally ended. He hasn't scored a Test hundred since January 2011, at Cape Town against South Africa. These are facts that can't be disputed. But when he scored a vital 76 to help India scale down a demanding fourth-innings target of 276 - as happened against the West Indies in Delhi last November - and attracted headlines such as 'Tendulkar fails to keep tryst with 100th ton', then surely something is wrong somewhere. And not with the man himself.

Thrice in the last fortnight, Tendulkar has had his stumps rearranged in Test cricket by three young fast bowlers from New Zealand — Doug Bracewell wasn't even born when Tendulkar made his Test debut in November 1989, Trent Boult was four months old and Tim Southee was less than one year old. That has set off a series of pronouncements - Tendulkar has slowed down, age has caught up with him, his body isn't as quick to respond to the urgings of his mind as it was even 18 months back, that it's time for him to emulate Rahul Dravid and VVS Laxman, and walk away into the sunset.

Every individual is entitled to his opinion, and that's something Tendulkar has steadfastly maintained throughout his career. He hasn't always taken well to criticism - which entertainer does? - but has remained largely immune to barbs and wisecracks though occasionally, he has responded with the odd acerbic remark. For the most part, he has let his bat do the talking, driven not so much by proving the critics wrong as living up to his own expectations and remaining the engine room that fuels the Indian charge.

Tendulkar came into the two-Test series against New Zealand with no competitive cricket in the preceding two months. Especially at 39, it's impossible to just start batting from memory; no amount of time in the nets can compensate for match-time or prepare one for the challenges of international cricket, never mind if it has been your calling for 23 years. To suggest that Tendulkar took his talent for granted and came into the New Zealand series ill-prepared is both uninformed and foolhardy, but there's little doubt that he was far from his best.

His highest score in three innings was 27, and for no length of time did he look completely in control of proceedings. He was undone on all three occasions by deliveries slanting in to him, and with his left foot going more sideways than forwards, he was twice bowled through the gate trying to play around his pads. To those that have followed his career closely - as almost everyone in India claims to have - that's not an uncommon mode of dismissal. Of his 282 Test dismissals, 51 read bowled and let's face it, it is just another form as dismissal, not the ultimate failing as a batsman.

Tendulkar will be better off for match practice by the time England come calling in October, having played for Mumbai Indians in the Champions League in South Africa. He is too proud a man to continue playing just for the sake of it. That's the least we can give someone who has devoted himself to Indian cricket. Yes, he can't continue to merit a place just because he is Sachin Tendulkar, but to condemn him because he has been bowled three times on the trot in Test cricket - just as we did Dravid in Australia last season - does neither us nor him any favours.