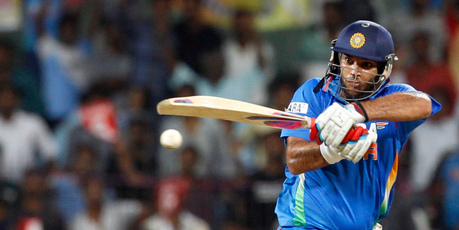 It might seem an indelicate observation, but has Yuvraj Singh been included in India's world T20 squad on cricketing or sentimental grounds? The big-hitting allrounder has battled and beaten a rare germ cell cancer, which sidelined him for about nine months. Winning the World Cup last year, on home soil, was the personal high point of a career which has been characterised by limited-overs deeds of derring-do, rather than locking down a regular place in the test side.

Shortly after playing a significant role in the Cup triumph, a golf ball-sized tumour was discovered near his lungs. Two and a half months' treatment followed in the United States. He returned home, after three cycles of chemotherapy, in April. His rehabilitation, in a cricket sense, was complete when he was named in India's T20 squad. His return to the national side came in the one-run loss to New Zealand at Chennai on Wednesday.

The ground erupted when he was handed the ball for the seventh over of New Zealand's innings. He's a charismatic cricketer in a cricket-mad land. Not so long ago Yuvraj, 30, couldn't walk up a set of stairs; the idea of him returning to the national side seemed to stretch credulity beyond its limits. But he's a fighter. "There are mixed emotions," he said after the Chennai game.

"We lost a game we should have won, but for me personally it was a bit emotional moment to get on the field. "I had tears in my eyes when we were fielding. Luckily the cameras did not catch it." His international career began in 2000; the first test of his 37 tests was against New Zealand three years later in Mohali. Yuvraj had cricket in his genes. His father, Yograj, who played his only test at the Basin Reserve in 1981 and four of his six ODIs against New Zealand that summer, was mad for the game.

The story goes that when young Yuvraj won a skating gold medal, his father took it from around his neck and threw it out of the car, "with the words 'from now on you are going to play cricket". Dodgy parenting skills aside, the decision has proved fruitful. Yuvraj carries himself with a regal bearing on the park. There is a strut and swagger when he's at the crease. He pulls spectators through the turnstiles in anticipation of seeing something special.

He once hit six sixes in one Stuart Broad over in the inaugural world T20 five years ago; last year he won four man of the match awards and player of the tournament at the 50-over World Cup. This week, Yuvraj took none for 14 off two overs of his serviceable left arm spin, pouched a catch and struck 34 off 26 balls, with a couple of blows into the crowd. Back to the central point. That would suggest there's a place within a 15-man setup for a game-changer.

Yes, there is certainly an emotional swelling of support for the big man; but if strong personalities such as captain MS Dhoni did not believe he could be an important cog in India's strategies, you can't imagine him carrying a passenger. India has an unwieldy selection panel, renowned for horsetrading to ensure each man's region gets a presence in the national side, but there's no mistaking the senior players call the tune.

"I personally feel he gives us the right kind of balance we need," Dhoni said this week. "He is not someone who will bowl all four overs in a T20 game, but he is a variation that I can use, especially since we have to play with four specialist bowlers."

Dhoni said he was "happy that he is in the team as he is a champion player and a match-winner". Had it not been for his health, Yuvraj would have been a walk-in selection for the tournament. He averages 31.63 from 24 T20s, with a strike rate of an imposing 150.25 per 100 balls. You might not want India to win the tournament; their administrators' bullying ways on the world stage are certainly not to everyone's taste. But spare a cheer for Yuvraj, who has fought and won a battle far bigger than any he'll face on the sports field.