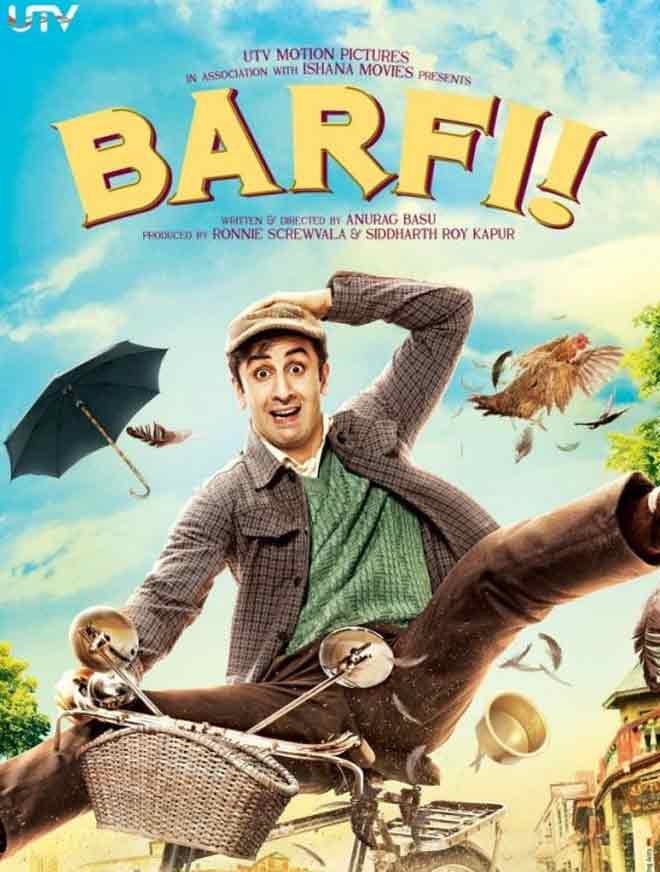 Barfi!
Cast: Ranbir Kapoor, Priyanka Chopra, Ileana D'Cruz, Rupa Ganguly, Akash Khurana, Jishu Sengupta
Direction: Anurag Basu
Rating:

This is it, the role Ranbir Kapoor was hungering for. Anurag Basu just gave Bollywood's youngest superstar the best twist in his career yet. Barfi! proves that Ranbir's climb to the top of the B-Town heap is only about a matter of time. It proves that the Bollywood scene stealer needn't necessarily be an alpha screen god on the wrong side of 45 romancing an actress half his age. He could also be a wonky mix of Chaplin, Monsieur Hulot, Raj Kapoor and Kishore Kumar, but we'll still root for him because he serves the cocktail of influences with self-patented cool.

Ranbir's new film may not automatically set off 100-crore chatter. Mainstream as it is, the idea would seem too unusual for universal taste. We are, after all, talking about a script where the hero can't speak or hear - so he has no dialogues - while the heroine is an autistic girl. The film is set in Darjeeling and there are no songs on lip sync, not even the mandatory item number our 'songless' films normally have.

For Anurag Basu as writer-director, Barfi! is his most imaginative brainwave yet. It reaffirms his status as one of the best storytellers in Bollywood, flushing all demons of the embarrassing Kites. Yet, Barfi! was merely using all those plus points as props to set up a rather predictable tale. What you get in the end is a love triangle - sweet, sublime and differently told, but obvious to the core anyway. There is a hint of a mystery in this story too, but it all ends without much of a surprise.

In Darjeeling of the early seventies lives the differently-abled Barfi (Ranbir), prankster who never runs out of goofy ideas. He was born Murphy but then the name changed to Barfi over the years. When he meets Shruti (Ileana Dâ??Cruz), daughter of a rich Kolkata household that comes to Darjeeling on vacation, the sparks fly. The problem is, Shruti is already engaged to be married and can't decide who to choose.

The plot spin comes when the gareeb hero needs big money after his father falls ill. Search for a solution sees him resort to crime, and also facilitates the entry of Priyanka Chopra as the autistic Jhilmil. Since Jhilmil belongs to a rich family, she could be Barfi's key to big cash. Of course, it's never that smooth. What follows adds suspense to rom-com.

Priyanka tries too hard to become Jhilmil, and the effort shows. This role could have been a steal for the talented National Award-winning star. Instead, she chooses to play to the gallery. A little less wiggling of the fingers, a smaller twitch on the lips and a less elaborate roll of the eyes would have sufficed. Debutante Ileana on the other hand does admirably, making most of her more simplistic role. The Telugu superstar gets her body language as a posh Bengali girl bang-on. Barfi! is a pleasantly different film, only it isn't an extraordinary one. That's because despite the brilliant characters and setting, the film doesn't have an extraordinary story to tell. Anurag Basu will basically bank on Ranbir power.