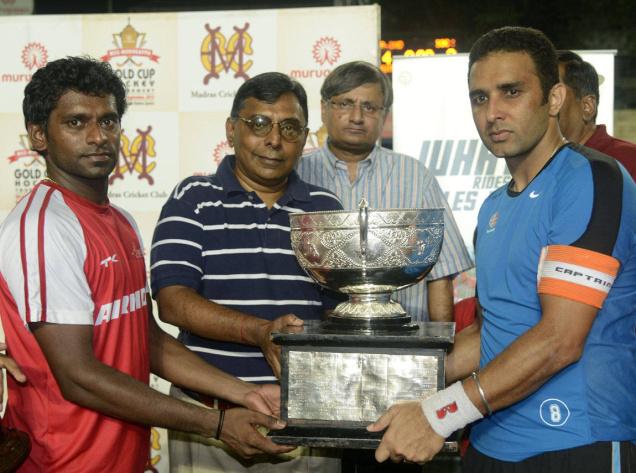 Amidst unprecedented chaos and confusion after what turned out to be a grand finale, IOC and Air India were declared joint winners in the MCC-Murugappa Gold Cup hockey tournament on Sunday. It was a pity that the clumsy handling of the penalty-shoot out — after the teams tied 2-2 in regulation time — saw a professionally conducted tournament end this way. Wiping out a two-goal deficit, Air India turned the tables on IOC from midway in the second half to level at 2-2.

The controversy surfaced when Uthappa, making the second attempt after Vikas Sharma netted, dribbled in for the eight-second penalty shoot-out from the 25-yard line. Challenged by goal-keeper Gurpreet Singh Uthappa managed to slip the ball into the boards. There was a clash of whistles, one suggesting that the eight seconds were over before Uthappa hit the target.

The award of this goal triggered a chaos with the Air India players, led by coach Dhanraj Pillay, running towards the umpire objecting to the goal. After a brief spell of arguments, the goal was disallowed. Deepak Thakur and Chikkara failed with their attempts and so did Shivendra and Cheyanna for Air India. With the scoreboard reading 4-3 (two tie-breaker goals for Air India and one for IOC), it was surprising that the IOC players had failed to protest as they did after Deepak Thakur and Chikkara fluffed their attempts.

The contest was deadlocked when Prabhjot Singh, readying for the fifth shoot-out attempt, was stopped from going through with it. The discussion that followed on the ground, with all the officials persuading to the teams to continue was an eye-sore. However, a compromise was hammered out. The joint winner formula was expedient to complete the championship but it was no consolation for many.

After a listless first half, Mujitaba Hamza deflected a cross from Prabhjot and Raghunath followed it with an impeccable penalty corner. Everything was smooth sailing for IOC until an own goal from a shot taken by Vikram Pillay put Air India back into the fight. Ten minutes from the regulation time Shivendra scored a lovely goal to bring the teams on an equal footing. Mr. A. Vellayan, Executive Chairman, Murugappa Group, presided and gave away the trophies.

Earlier, the teams were presented to M.M. Murugappan, Vice-Chairman, Murugappa Group. The Tournament Committee presented a cheque for Rs.60,000 to Shanthi Mary, wife of the former Olympian and stalwart, V.J. Peter. The players of Air India also presented a purse of Rs.50,000. The result: Final: IOC 2 (Mujitaba Hamza, Raghunath) drew with Air India 2 (own goal, Shivendra Singh). Tie-breaker: 2-1. Special prizes: Player of the tournament: V. Raghunath (IOC); Forward: Joga Singh (Air India); Midfielder: Vikas Pillay (Air India). Goal-keeper: Gurpreet Singh (Air India).