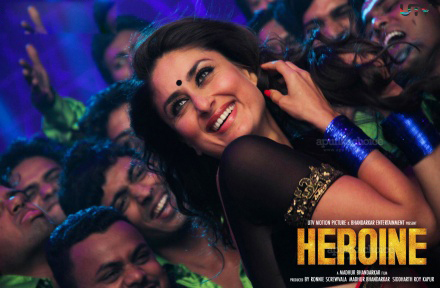 The film by Madhur Bhandarkar could easily be the most ambitious of the women oriented films we have seen coming from Bollywood this year, and they are not few in count. A hit film like Kahaani set the things in motion at the start of the year, and Bollywood was no longer wary of pitching its films on the leading ladies rather than men. Sunny Leone was the star attraction of Jism 2 (not the two leading men), and Raaz 3 had Emraan Hashmi comfortably taking the back seat to let Bipasha Basu and Esha Gupta hog the screen time.

Looking ahead, women-oriented films like Aiyyaa, English Vinglish are set to make deeper inroads, spearheaded by this week's release Heroine, starring Kareena Kapoor as a famous film star whose search for true love takes her to disastrous depths. The film is going to have the widest release for any woman-oriented Bollywood film to date. Reportedly, it will hit as many as 2400 screens this Friday in order to take the marquees by storm.

Both Madhur Bhandarkar (director) and Kareena Kapoor have been on their toes promoting the film and giving interviews to the press. "I am happy that 'Heroine' has turned out to be my bravest role. Not many actresses would dare to play the role of a declining superstar," Kareena says about the film which, lest we forget, also stars the male actors Arjun Rampal and Randeep Hooda.