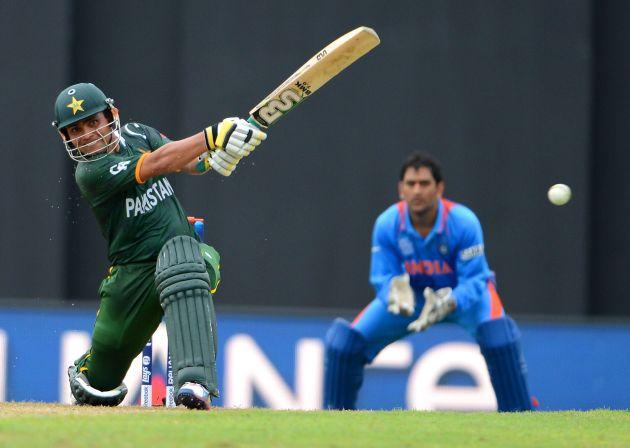 Not even the tag 'warm-up' dents the extra intensity that goes into contests involving India and Pakistan. As the sub-continental neighbours clashed in a Twenty20 game for the first time since Misbah-ul-Haq found S. Sreesanth at fine-leg on a surreal night at Johannesburg almost five years back, Pakistan rode high on Kamran Akmal's unbeaten 92 (50b, 5x4, 6x6) and defeated India by five wickets.

Humdinger Monday's practice match, ahead of the ICC World Twenty20 at the R. Premadasa Stadium here, dished out a humdinger, with India making 185 for three and Pakistan chasing it down making 186 for five in 19.1 overs. Initially skipper Mohammad Hafeez anchored Pakistan's pursuit that was often stymied by the fall of wickets in clusters. After openers Hafeez and Imran Nazir put on 30 runs, two wickets fell for the addition of a mere three runs, and the next three succumbed as the score inched from 84 to 91.

Yet, during these testing phases, Kamran remained alert to the dictates of a mounting required run-rate. Clouted six Kamran greeted Harbhajan Singh with a clouted six and then cut a swathe of fours with precision. There was a brief lull when R. Ashwin and L. Balaji together gave away just five runs through overs 10 and 11, but after that Kamran was back in his element. Zaheer Khan, Harbhajan, Irfan Pathan and Balaji were scattered with disdain, and once Shoaib Malik joined in, Pakistan had sealed the contest.

Earlier a 127-run third-wicket partnership between Virat Kohli (75 n.o.) and Rohit Sharma (56) ensured that India did not slacken after the dismissals of Gautam Gambhir and Virender Sehwag. From 45 for two, India needed an alliance to sustain the momentum and the portents were good as Kohli despatched the first ball he faced from Umar Gul, towards the long-on fence and Rohit cut Shahid Afridi fine. The two scored in tandem; the highpoints were the disdainful sixes that came off the bats of Rohit: one each off Afridi and Sohail Tanvir, and Kohli: one each off Saeed Ajmal and Mohammad Sami.

Not India's day The duo's partnership, spread over 77 balls, however was overshadowed by the shots that Kamran unleashed towards the end. Perhaps, Pakistan felt that actions speak louder than words as no one turned up for the post-match press conference. Meanwhile Rohit said: "It wasn't our day but I am sure we will come back." The scores: India: G. Gambhir b Gul 10, V. Sehwag c Afridi b Ajmal 26, V. Kohli (not out) 75, R. Sharma b Ajmal 56, Yuvraj Singh (not out) 4; Extras (lb-3, w-5, nb-6): 14; Total (for three wkts., in 20 overs): 185.

Fall of wickets: 1-41, 2-45, 3-172. Pakistan bowling: Tanvir 3-0-35-0, Gul 4-0-31-1, Sami 2-0-31-0, Ajmal 4-0-22-2, Hafeez 3-0-22-0, Afridi 4-0-41-0. Pakistan: Md. Hafeez c Rohit b Ashwin 38, I. Nazir c Raina b Ashwin 13, N. Jamshed (run out) 0, Kamran Akmal (not out) 92, S. Afridi c Zaheer b Ashwin 0, Umar Akmal c & b Ashwin 2, S. Malik (not out) 37; Extras (w-4): 4; Total (for five wkts., in 19.1 overs): 186. Fall of wickets: 1-30, 2-33, 3-84, 4-84, 5-91. India bowling: Zaheer 3-0-31-0, Irfan 3.1-0-40-0, Ashwin 4-0-23-4, Balaji 4-0-41-0, Harbhajan 4-0-40-0, Yuvraj 1-0-11-0.