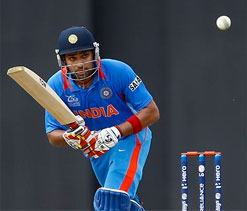 Middle-order batsman Rohit Sharma on Monday expressed confidence that India would bounce back from the five-wicket loss to Pakistan in their last warm-up game ahead of the World Twenty20, and said the team will get better as the tournament progresses. "We should bounce back. I am sure we will come good as the tournament progresses. It was just one of those bad days. We will come hard against Afghanistan and take it from there," Sharma said.

India open their campaign in the tournament proper with a match against Afghanistan on Wednesday. After the win over Sri Lanka in the first practice match, today`s loss to the arch-rival has dented India`s confidence to an extent. "Unfortunately, things didn`t go our way. 186 was a good target on this wicket because I thought there was a bit of help for the spinners, but it was one of those days when things didn`t come together," Sharma was quoted as saying by the ICC website.

Openers Virender Sehwag and Gautam Gambhir did put on 41 runs but could not carry on, and the Mumbai batsman conceded it is important for the team to get a start. "It is very important in any format to get a good start. They have been batting really well, there is no doubt. I am sure in the coming days they will come good. They are very experienced and it is just a matter of one game," Sharma, who struck a brisk fifty against Pakistan on Monday, said.

His return to scoring ways is welcome news for India as the batsman looked woefully out of sorts in the team`s last tour to the island nation early this summer. "That tour of Sri Lanka was very frustrating but everyone showed their faith in me and I have certainly worked very hard on my batting and my fitness, and it is showing. "It is just a start and there is still a long way in the tournament. Hard work never stops, and whether you are in form or out of form, you got to just keep working hard. I will try my best to do what the team needs me to do."