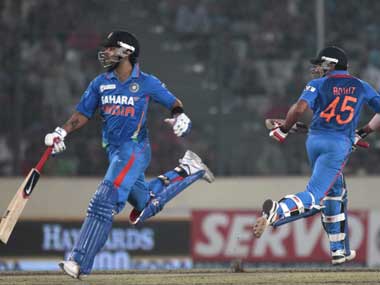 It was absolutely stunning to watch Rohit Sharma and Virat Kohli bat in tandem at the R Premadasa stadium; stunning not because the duo put on 127 runs at a run-rate of 9.89 in 12.5 overs or even because they made light of Gautam Gambhir and Virender Sehwag's loss. But simply because this was the vision of future that India was first presented with in 2008 – when the two played together for the first time in India colours – and it still has a chance of coming to fruition.

Indeed, at times, the press box was divided over who looked better in the middle. Virat or Rohit. As good as Virat is looking in the middle – you can see him making a conscious effort to do the right thing. Even full tosses are hit straight down the ground.

Rohit, on the other hand, goes for the tougher shots. While Virat recognises his limitations, Rohit has just not reached that level – perhaps because he feels nothing is impossible. So when he gets it right, he looks spectacular. But when he doesn't… it kind of underwhelms the very sense of his being. After playing international cricket for more than 5 years, he needs to get a better idea of what his 100 percent shots are.

And often that is what lets him down. Rohit's innings of 56 off 40 balls was just as spectacular as Kohli's – but who was standing at the end? It was Kohli. Rohit was dismissed going down the track to Ajmal, looking to hit the ball over mid-wicket. The bowler shortened the length and the batsman missed it completely. One might say that before he got out, he did significant damage; one might even say that given the format he wasn't wrong to do what he did.

But just because you have the license to do something – go for the shots in T20 for instance – it doesn't give you the chance to abuse the power. In the end, Kohli ended up with 75 off 47 balls and he has become a man that Dhoni can trust to do the right thing in every situation. With Rohit, on the other hand, one never knows what one might get – it could be gold or it could be a big, fat zero. There are no in-betweens with him. There is no bare minimum.

He's worked hard in his time away from the team. He's lost weight, put in a lot of hard work in the nets and even changed his jersey number from 23 to 77 – he's pulled out all the stops. But does he still know what he's really trying to achieve in the middle? Is it just score runs or is there a bigger objective?

For Kohli, his trigger moment came in the Test series in Australia but even before that cruised through ODI cricket in the back of his consistency. In 2008, he averaged 31.80. In 2009, he pumped it up to 54.16. In 2010 and 2011, he averaged 47.38 and 47.55 respectively. This year, his average is a phenomenal 73.28. There simply has been no let-up.

Rohit, on the other hand, has had no consistency – at least in good terms. In his first three years in international cricket – the best average he managed to achieve was 25.50 in 2009. Then, 2011 came along and it looked like he had finally made the breakthrough – 611 runs at 55.54 are spectacular. Then came the fall – in 2012, in 13 matches, he has made 164 runs at 13.66. But he still seems to be searching for that trigger moment that has not arrived yet. One hopes he finds it soon enough because if he fails again, the selectors might decide to give him the old cold shoulder.