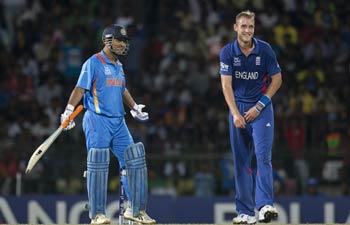 When England blasted their way past Afghanistan in their tournament opener, captain Stuart Broad was all praise for personnel, who had put in a complete performance. Then on Sunday, though it was a dead rubber, the manner their capitulation at the hands of India should've been worrisome, not because of the direct consequences to their title defence - which wasn't affected - but because crumbling in front of quality spin is nothing new for England. And amount of new faces seems be able to cure that malaise.

And yet, Broad hid behind the excuse that it was a dead game, less than 48 hours after saying that any match played for the Three Lions logo of England could never be meaningless. "It doesn't change our destiny a huge amount -- we still hop on a bus to Kandy in the morning. It is not like tomorrow is going to be a different day. It is not as if we have to go home or anything," Broad said.

"We could afford to lose this game. I suppose it can be a bit frustrating that some days we play spin really nicely and other days we just turn up and everyone seems to play it badly together. It's just one of those things. As a captain, I'm pleased it happened here and not in a game that could knock us out." But Broad seemed to forget that England are part of the Super Eight group based in Pallekele that includes Sri Lanka from Group C, New Zealand or Bangladesh from Group D and the West Indies from Group B. It means they will come across the quality of Ajantha Mendis, Sunil Narine, and possibly Daniel Vettori or the bevy of left-arm spinners Bangladesh possess. And India have shown each of them a way to push the defending champions out of the tournament - by bowling arm-balls, carrom balls and googlies at them.