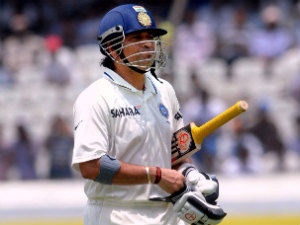 Australia's Shaun Tait is the latest to join the club of former cricketers to come in favour of India's batting legend Sachin Tendulkar, as he said the master alone has to take a call on his retirement. Tait, who quit limited overs internationals during the 2011 World Cup, felt people should not dictate terms to a legendary player.

"I personally feel it is not fair to dictate a legend like Sachin on the matter of his retirement. It is absolutely his decision when to retire or not," Tait said. Shaun Tait, who has represented Australia in 3 Tests, 35 ODI and picked 5 and 62 wickets respectively, felt the master blaster will be back among runs soon.

"He is a god to Indian cricket and has given so much to the game of cricket. It is only a matter of time before he is back among runs," Tait told reporters in Kolkata, on the sidelines of Blender's Pride Fashion Tour. The 39 year old Indian legend has been criticised for being dismissed bowled thrice in the series against New Zealand in India last month.

Talking about Sachin Tendulkar, and his recent form, Shaun Tait said age and performance were totally different and weren't related as he said performance is the only criteria. "Age is just a number. For a cricketer it's his on-field performance that matters the most. Performance should be the only criteria and not the age." Earlier Glenn McGrath, Brian Lara and other former cricketers had also voiced the same as they had said Sachin would know when to announce his retirement, as he has contributed a lot to the game since his debut in 1989.