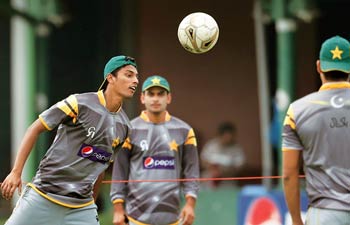 Locals are still waiting to see their Sri Lankan heroes play here in this ICC World Twenty20, and the wait will continue till at least October 4, when they could play the first semi-final. Till then, there is some quality cricket on offer for the fans now that the Super Eights have begun, and then there is the mother of all battles - India vs Pakistan.

The ICC's method of seeding the big teams beforehand, to ensure that teams, mediapersons and travelling fans can plan their trips accordingly, has also helped in the sense that barring a group stage upset, the A2 team (India) vs D1 team (Pakistan) match was set to be held at the 35,000-seater R Premadasa Stadium on a Sunday, thereby maximising the in-stadium and television viewership.

This will be the second time the arch-rivals lock horns in the last two weeks, having played a warm-up game here a day before the tournament began, which Pakistan won comfortably. But since the World Cup semi-final in Mohali 18 months ago, India and Pakistan have faced-off in an international game just once - an Asia Cup match at Dhaka in March.

The long break seems to have whetted the appetite of the fans, and it is the first non-Sri Lanka match of the tournament that is set to attract a full house. On the ICC's official partner website, www.eticketing.co.uk, tickets for the double-header also featuring Australia vs South Africa have been sold out, while there is a great demand for the non-web allocation as well.

"The trend has been for the matches between the big teams to be well attended, as we saw during the Australia-West Indies and India-England games here, which both had near full houses. But India-Pakistan promises to be witnessed by an even bigger crowd, and of course we are very pleased about it," an ICC official told Mail Today requesting anonymity.