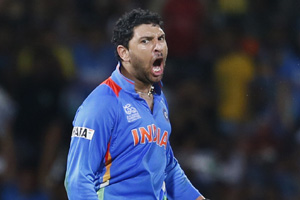 All praise for Yuvraj Singh's small but notable contributions in India's T20 World Cup campaign so far, skipper MS Dhoni said the all-rounder, who returned to cricket after beating cancer, is an indispensable part of his T20 line-up. Yuvraj, playing his first international event after recovering from a rare germ cell cancer, has been in decent form both with the bat and ball besides making his mark as an agile fielder.

The 30-year-old effected a run out, picked up two crucial wickets besides contributing 19 runs with the bat in the Super Eight win against Pakistan last night which kept India's chances of making the semifinals alive. "If we look at our combination, we play seven batsmen and you can't leave out someone like Yuvraj Singh. We had never considered the option of leaving out Yuvraj," Dhoni said at the post-match press conference.

"Our bowling line-up is such that we need a left-arm bowler who can take the ball away from the batsman. Also he is a brilliant fielder as you saw with the run-out today," he added. Yuvraj's fitness has been questioned by former India captain Ravi Shastri but Dhoni feels that the senior player is certainly fit for this format.

"I am not really concerned about his fitness as far as this format is concerned. He has worked really hard at the NCA for the past few months. He has also played some active T20 matches before coming into international cricket. More so the batting time in the middle will certainly help him as in domestic cricket, you don't get the kind of bowlers you get here."