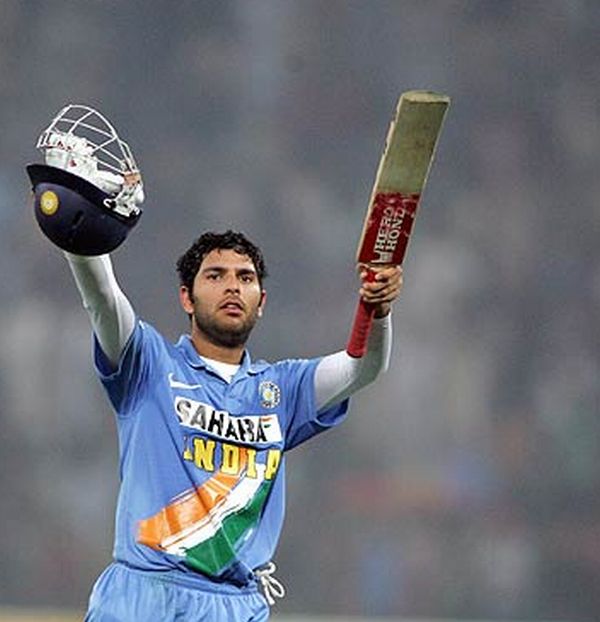 If India can go on to win the World T20, it will make for one of the most amazing stories ever, primarily because of the presence of Yuvraj Singh in the team. Having conquered cancer, Yuvraj is now conquering the other 'C' - cynicism - that afflicts sports fans in India. Within six months of undergoing his final chemotherapy session, he is back on the field doing his bit in India's victories.

The nation had wondered if he was fit enough yet; whether his selection was just an emotional decision, coming so soon after he had just survived the battle for life. When he began his second innings, we suddenly began to look for the Yuvraj of old who would charm us again. When he took a bit of time to find his groove, we immediately doubted the selectors' call. International cricket can be a cruel place, and the Indian fans' demands even more so!

It didn't matter that for a man returning from hell, Yuvraj was doing decently well. The 30-year-old scored 18 and took three wickets in the first game against Afghanistan, at a time when the minnows looked to be taking the chase to India. Thereafter, Yuvi didn't get much to do against England and got out cheaply against Australia.

All of a sudden, murmurs began doing the rounds about his place in the team. Gossip mongers floated the weird theory of skipper MS Dhoni being faced with a choice between Yuvraj and the out-of-touch Virender Sehwag for a berth in the final XI. Most assumed that Yuvraj was undercooked for a tournament of this standard. Most also forgot how much faith Dhoni has in a man who has contributed handsomely in India's two World Cup wins in recent times.

On Sunday night, Yuvraj silenced the Doubting Thomases again. He took two wickets while giving away just 16 runs in three overs to leave the Pakistan innings fractured. Who says India needs five bowlers in these conditions, when you have Yuvraj around?

On subcontinental wickets, where the ball can grip and turn, Yuvraj is India's version of Shane Watson. He has taken six wickets in four games so far, at an average of 9.66 and an economy rate of 6.00. 45 runs in four games mean he should get better in batting, but an unbeaten 19 that took India home on Sunday should now give more confidence to Yuvi the batsman too. After the win over Pakistan, Dhoni crushed speculation that Yuvraj's place in the XI was under question.

"The fact whether Yuvi should play or not was not even considered. Especially when we play with seven batsmen, the role of the part-timers is very important. Virat Kohli is one option but a left-arm away-going option is good to have. Yuvi's role is important. We all know that he is a good fielder too. Today, he effected a good run out. If we are playing with four specialist bowlers, it is difficult to leave out Yuvraj," Dhoni said.

Dhoni has always been a Yuvraj fan. "His batting today will give him a lot of confidence. We all know once he gets going, he is a terrific batsman to have in the side," the skipper gushed. Dhoni has no doubts about his ace player's fitness too. "He looks very fit for this format. I think he has done a lot of work in the last few months. He looks good," the captain said. For a man who was vomiting after receiving chemotherapy some time back, Yuvraj does look good. He is already an inspiration for millions. He could yet hit the biggest 'six' of his life in this second innings.