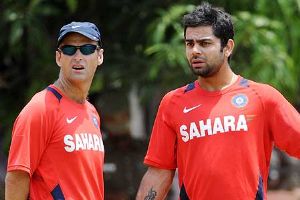 When Virat Kohli first played for India, way back in 2008, in an ODI against Sri Lanka, at Dambulla, no one imagined that four years later, he would be amongst the premier batsmen in world cricket, who would score heavily in every format of the game and become India's most dependable batsman.

Few would have imagined that he would play such mind-boggling knocks that would see him receive the ICC ODI cricketer of the year award before this event. The man, who was coach of the Indian team when Kohli wore his India shirt in 2008, is happy to see his ward's progress, though he must be secretly hoping that for once, this 23-year-old has an off day.

Gary Kirsten, handling the Indian team's reins back then, saw Kohli take baby steps in international cricket, and is pleased to see the Delhi lad's phenomenal progress since. Kirsten is now coaching South Africa and would be plotting how to dismiss Kohli as his team takes on India in a do-or-die Super Eights game at the Premadasa, on Tuesday.

"I am very pleased for Virat. He has worked a lot on his game and is a stand-out batsman in world cricket today. He is one of those cricketers with an x-factor who doesn't get himself out. You have to get him out as he doesn't give his wicket away," Kirsten said in praise of the man who has scored 183 runs so far in the tournament in four games, at an average of 61. Pakistan skipper Mohammad Hafeez and his Indian counterpart MS Dhoni too had praised Kohli for his wonderful knock on Sunday.

Kirsten, however, doesn't believe that he can provide more help to the Proteas by virtue of being with India earlier. "There is enough information available on every player to be analysed at length. There is internet, there are recordings of matches available. So there are plenty of options and I don't think we (Kirsten and mental conditioning coach Paddy Upton) have anything unique to offer," said the former South African opener.

There was no way he was going to get into why Virender Sehwag was dropped by India before being included, but Kirsten did admit that SA not being able to close out Pakistan after reducing them to 76 for seven had a big impact on their fortunes. "We had a chance of winning both the games and we let it slip. When we left our shores, everyone said it is a balanced side. The main thing is that we haven't played well during key moments. We had Pakistan seven down for 60-odd and we should have won that match," he rued.

South African captain AB de Villiers had on Sunday evening promised a better show from the Proteas on Tuesday, a day that could be their last in this edition of the World T20. "We are not a team that ever gives up and as long as we have a chance, we will do everything to finish on a high against India, and we know we will have to raise our game considerably," he had said. To do that, they must send Kohli back early enough.