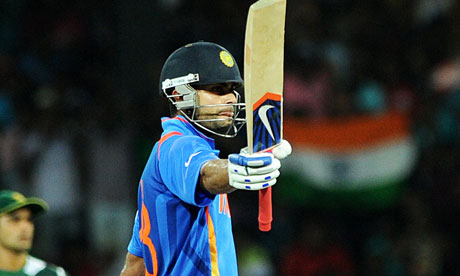 Sometimes it takes a man to fail for us to realise how good he is. When India's Virat Kohli was dismissed for two against South Africa on Tuesday, it prompted a confused rubbing of the eyes. Kohli had failed? In a big game? It simply did not compute. Kohli has achieved a staggering level of consistency over the past year. This was only his third single-figure score in 34 innings for India this year, most of which have been in the shorter, risk-demanding forms of the game. At first it was a purple patch; then an annus mirabilis. Increasingly, however, it seems there is nothing temporary about this form; maybe this is simply the level Kohli is at now. He is developing an aura.

At the age of 23 he has 13 ODI hundreds, more than anyone else in history at the same age, more than any Englishman at any age. He has brought a Test-match consistency to Twenty20, in which he averages 39 for India. And after a slowish start to his Test career – he was omitted in England in 2011 – a breakthrough hundred at Adelaide last winter was followed by a century against New Zealand at Bangalore. In 2012 he averages 63 in Tests, 73 in ODIs and 47 in T20 internationals. Last month he became the youngest man to win one of the major ICC awards when he was named ODI Player of the Year.

Quite right too. Kohli's ODI form has been stunning, including a run of five centuries in eight games. Two of those stand out. The first was a spellbinding 133 not out from 86 balls against Sri Lanka in February. India needed to chase 321 in 40 overs to stay in the CB Series; Kohli got them home in 36.4 overs. Three weeks later he made a monumental 183 against Pakistan in the Asia Cup, enabling India to chase down a target of 330.

Kohli is the premier batsman in India's limited-overs teams, batting at No3 in both ODIs and T20 internationals. It would be hard to leave him out of a World XI in either form of the game. The same is not yet true of Test cricket. Kohli has only played 10 matches, and has been sensibly eased in at No5 or No6, but seems ready for his big breakthrough. At the end of next month's four-Test series, England may be sick of the sight of him.

"He is a great player and we have always known that," said Gary Kirsten, formerly his coach with India, earlier in the week. "He is probably one of the stand-out batsmen in the world at the moment. He is one of those X-factor cricketers that other teams want to get out, because he is not going to get out himself."

Kohli bats with intimidating authority and seems stimulated rather than cowed by pressure. There is also a remorseless ambition to his batting; as with Kevin Pietersen, a brash exterior sometimes obscures an unimpeachable work ethic. "His work ethic is brilliant, his focus is immense," says Yuvraj Singh. "Since the time he has joined the Indian team, I saw his work ethic and wished and wondered why I didn't have that work ethic when I was his age."

The alliance of that focus and a divine natural talent makes Kohli quite the package. He could – should – be the next superstar of world cricket. While modern cricket has a number of young box-office stars, most focus on the shorter form of the game. Kohli, by contrast, still believes in the primacy of Test cricket. "People asked me which hundred is most special to you and I said the hundred in Adelaide against Australia. I didn't have that feeling ever in my life, before or after – and I felt it today again," he said after making his second Test hundred. "I think that is the most satisfying, when you're being tested and your patience is being tested, your technique is tested and you manage to score a hundred – it always pleases a batsman."

There is no logical reason why Kohli should not score 10,000 Test runs. He is certainly tough enough. He was aged 18 when, in 2006, his father died at 2am. The same day he made a vital 90 to help Delhi avoid the follow-on and then went straight to his father's funeral. "Virat changed a bit after that day," said his mother. "Overnight he became a much more mature person. He took every match seriously. He hated being on the bench. It's as if his life hinged totally on cricket after that day. Now, he looked like he was chasing his father's dream which was his own too."

And nobody was going to get in his way, certainly not any punkass, loudmouth opponents. Any sledging is usually returned with interest, and he came through a seriously challenging tour of Australia last winter with a gold star – and, even better, high praise from Richie Benaud. India lost the Test series 4-0, but Kohli made their only century of the series and top-scored in both innings when they were duffed up at Perth. Hardship begets hardness; that tour may have done for Kohli what a similar thrashing there did for Viv Richards in 1975-76.

There remains a raw, emotional edge to Kohli that was particularly evident in Australia. He was fined for giving fans at the SCG the finger, a response to abuse of his mother and sister, and when he made his maiden Test hundred he celebrated wildly. You could imagine him whipping off his top at Lord's like Sourav Ganguly. But he is slowly smoothing off the rough edges and is now vice-captain of India's one-day team.

There is certainly nothing abrasive about his bat, which seems to have a never-ending sweet spot. His timing on the leg side is sublime, while his cover drive could soothe the most troubled brow. His timing can be pretty sweet off the field, too. In the joyous aftermath of India's World Cup victory last year, the team carried Sachin Tendulkar around the ground on their shoulders; when asked about it a few minutes later, Kohli said "Tendulkar has carried the burden of the nation for 21 years so it's time we carried him on our shoulders". It's not just bowlers who can deliver the perfect line.

In 15 years' time, somebody might be saying the same about Kohli. It's hard to see him fading away like another batsman with the same initials, Vinod Kambli. He was Tendulkar's peer – they added 664 together in one school game – but played only 17 Tests, the last at the age of 23. "Sachin took the elevator and I took the staircase," said Kambli. If the last year is anything to go by, Kohli is in the same elevator, heading inexorably for greatness.