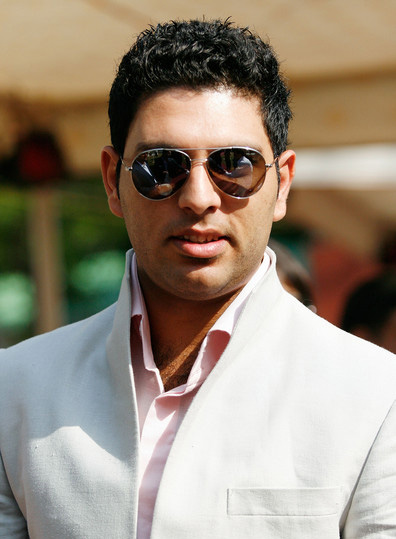 Only a few months back, Yuvraj Singh had become greater than myth. The phrase 'cancer survivor' followed him just about everywhere. But no sportsman wants to ride the wave of sympathy for too long. At one point it started to exasperate him. It's only this week that he found the best way to deflect attention from Yuvraj, the cancer survivor, to Yuvraj, the cricketer. He conjured up a double ton in Duleep Trophy for North Zone against Central.

Getting the big runs in Indian domestic cricket does not entitle you knighthood. But this wasn't any other double ton for Yuvraj, was it? Yuvraj batted five and a half hours over two days, played out 241 balls, and was alert to quick singles. He had to tick these 'normal' boxes to silence naysayers, even if temporarily.

As Indians, we have eulogised his struggle, but the true weight of what Yuvraj has achieved might sink in only now. Visualise the Yuvraj a few months back. That bald pate after chemotherapy. And that girth oh so wide. When he knocked some balls with IPL's Sahara Warriors, it all felt so surreal. We'll never truly know what happened behind the scenes — that unquantifiable struggle at the National Cricket Academy where he trained like a dog to get back in top shape.

Opinions were understandably polarised over his call-up to India's World T20 side. Couldn't Yuvraj have been eased in with proper conditioning? Was his endurance level tested to the full, considering that he hadn't played a high grade of competitive cricket? The common refrain was that the selectors had made an emotional decision. The chorus only grew louder after Australia annihilated India.

During the Duleep Trophy, two national selectors had a rare chance to assess Yuvraj dispassionately — have a glimpse of whether he was indeed ready to survive the rigours of the longer version. According to reports, Yuvraj stroked the ball uninhibitedly and not for once showed any signs of body fatigue. Central Zone's Murali Kartik summed up the knock in a monosyllable: Sublime.

One of the selectors confessed he was "very happy" with what he'd seen. So what does Yuvraj's knock mean in context of the season ahead? Given that India still have a Test vacancy at No. 6, does Yuvraj deserve a debate? Should he make the cut for the home series against England, given that Suresh Raina has done barely anything of note in that position despite getting a long rope?

"Look, a double ton at any level is no mean feat," said former national selector Kiran More. "I feel he (Yuvraj) should now play every form of the game that he possibly can: one-day matches, local games, office cricket...whatever comes his way. The more he plays, the better he will get."

More thought that it was unrealistic to expect Yuvraj to hit the high straps instantly. "The pressure on him was building up when he was back. It surely must have played on his mind. Now, he's gradually easing off." A fulfilling Test career. It's an ambition Yuvraj continues to nurse. He was dropped after an ordinary home series against the West Indies. His Test graph has been anything but fulfilling.

Against this backdrop, would it be fair to hurry him for a marquee series for a stern examination against James Anderson and Stuart Broad? Not to forget that Indians are notorious for impatience. So far, Yuvraj's second coming has been a dream. Who knows, there could be more to celebrate should he wear the whites again.