Reel life mingled with real life as Ajay Devgn honoured real-life Singhams, the bravehearts of the police and paramilitary forces, at an award function in the capital on Saturday. The Bollywood actor had essayed the title role of a no-nonsense cop in the superhit Singham last year.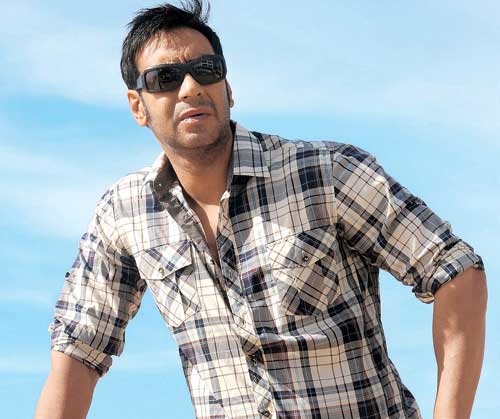 Organised by the All India Anti Terrorist Front (AIATF), the Singham Bravery Awards were held on the occasion of National Police Day 2012 to felicitate those who had risked - some had even sacrificed -- their lives in the line of duty.

Devgn, also the brand ambassador of Maharashtra police, lauded the martyrs and their families. "I feel very small in front of you all. The real Singhams are the martyrs and the families who are left behind. I salute them". Rohit Shetty, director of Singham, echoed similar sentiments. "It's not one person whose life is sacrificed. The entire family sacrifices."

Others present on the occasion were: K Vijay Kumar, ex-DG, CRPF, better known for his role in ending the dreaded reign of sandalwood criminal Veerappan in 2004, M S Bitta, chairman, AIATF, and Dr Madhurani Teotia, wife and widow of IPS Narendra Kumar. The latter had laid down his life fighting the mining mafia of Madhya Pradesh's Morena district and his wife received the award.

Family members accepted the award on behalf of Punjab Police's head constable Surinder Singh (posthumous) and constable Narinder Singh (posthumous). Head constables Gursharan Singh, Satnam Singh and Thiman Singh also received awards.

Kins of Ranjeet Singh, Prakash S Meena, KC Meena and Ashok Verma - all from CISF - also received awards. Similarly, wives of head constable Sanjeev Kumar (posthumous) and constable Tanveer Singh (posthumous) - both from Delhi Police - received the awards.

From CRPF, the recipients were family members of sub-inspector Kanhaiya Singh (posthumous), constable Vishnu Pandey (posthumous), head constable Anil Upadhyay (posthumous). Others who were felicitated include: DIG, CRPF, PS Rajora, Deputy Commandant RK Singh and Inspector Vasudev.

From Haryana Police, the kins of constable Mahavir Singh (posthumous) and assistant sub-inspector Dharampal Singh took the awards.Constables Pankaj Giri and Dalbir Singh from Uttarakhand Police were also felicitated.

On the occasion, Dr Teotia also recited poems written by her husband and reminisced how he coaxed her into seeing films like Gangaajal and Singham "as he found them spreading positivism in the maze of negative that surrounds us on a daily basis."