Sachin Tendulkar has given Australians another reminder of his fading powers. Tendulkar will be remembered as a legend of the game, but his recent form is more befitting a mere mortal than the man described by many as the greatest player to hold a bat since Don Bradman.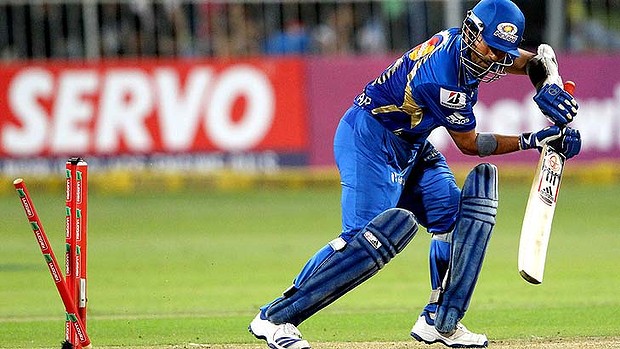 Australians saw Tendulkar on the wane last summer as he scratched around unsuccessfully for a much-hyped 100th international century, and nearly 12 months later the curve is still not trending upwards.

With three of its four franchises failing to make the semi-finals, India has had a dismal Champions League tournament, and the sight of their idol underperforming will not lift national spirits.
Advertisement

Only night owls in Australia would have seen Tendulkar bat in South Africa, but even they may have been put to sleep by his offerings. If you count a warm-up match against the disappointing Perth Scorchers, Tendulkar has managed just 52 runs at an average of 10.4.

His strike rate of 68 would be considered only modest even in the 50-over game, let alone the high voltage Twenty20 format. Not once did he score at above a run a ball. His 22 from 23 balls against the Sixers was his highest score, but even that had a negative impact on his Mumbai Indians team, which failed to win a game in the tournament.

His knock contained 12 dot balls, considered poison in Twenty20, before he was put out of his misery by Moises Henriques. His sluggish scoring did not go unnoticed by Brad Haddin, who believed Mumbai's slow start was a key factor in the Sixers' victory.

Indian firebrand Harbhajan Singh, perhaps knowing the consequences should he bag a national icon, did his best not to point the finger directly at Tendulkar, though it's clear where he felt the game was lost.

"We played a lot of dot balls which was taking the run rate up," Harbhajan said. "T20 cricket is all about scoring runs. If we eat a lot of balls, that puts the pressure on the other batsmen." Granted this is Twenty20 cricket — a format that does not suit his classical style — but Tendulkar's struggles are by no means limited to the hit-and-giggle game.

He has scored one international century in his past 38 innings and one Test ton since the start of last year. His average from his past 13 Tests is a mediocre 35 — well down on his career mark of 55.

Team India has also suffered in that period, falling from No. 1 to a lowly No. 5 in the world rankings. Those numbers suggest the writing is well and truly on the wall, but neither Tendulkar nor India is ready to read it just yet.

Barring an unforeseen retirement in the coming months, Tendulkar, who turns 40 in April, will be around to face Australia in a four-Test series on the subcontinent early next year. Tendulkar, like most champions, may yet make his critics appear foolish, though few in cricket seldom do approaching 40.