Talk about going out with a whimper. Reports have dribbled through to England that Sourav Ganguly won't be playing in the Indian Premier League for Pune next year – and as he had already made himself unavailable for Bengal in the Ranji Trophy, that probably marks the end of his career.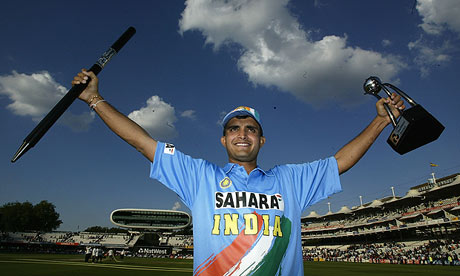 Not necessarily, however. Sujan Mukherjee, one of the joint secretaries of the Bengal cricket board, has floated the possibility that Ganguly, who is now 40 but still looks disconcertingly boyish, may make a comeback if his state team are struggling late in the season.

If not, this could be an unsatisfactory way for the most successful captain in India's history to bid farewell, and certainly contrasts with the clean break Andrew Strauss made with the game a few months ago, announcing his retirement in the same press conference at which he resigned the England captaincy. Yet for a couple of reasons, Ganguly will not be too bothered about that.

Firstly, he's already had his grand farewell, in India's triumphant home series against Australia in late 2008 . Having hit a crucial century in the victory in Mohali which secured the series, he signed off with 85 and a golden duck in his last Test in Nagpur – then threw his shirt to the crowd in a tribute to his famous bare-chested celebration on the Lord's balcony five years earlier, which was itself interpreted as a riposte to his former Lancashire team-mate, but not soul-mate, Andrew Flintoff.

Secondly, one of the great appeals of Ganguly has always been his lack of interest in keeping up appearances. Perhaps that is the result of the privileged upbringing in Calcutta, as Kolkata was then called, which led to him being nicknamed the Prince of Bengal during that brief and unsuccessful stint in county cricket with Lancashire in the 2000 summer. It now promises to make him a thoroughly readable and watchable cricket pundit.

John Wright, the New Zealander with whom Ganguly developed such a good relationship when they worked together as India's coach and captain respectively, suggested in a recent interview that he could become a cricketing version of John McEnroe, who has so perked up the BBC's tennis coverage over the last few years.

Wright may not have been altogether serious, to misquote McEnroe slightly, but Ganguly was certainly good value during his stints on ESPN Star at the World Twenty20 in Sri Lanka. He has the personality as well as the looks to act the mischievous schoolboy, teasing his fellow pundit Kevin Pietersen about his impasse with England, or a bad result for Chelsea.

Yet there is clearly so much more to Ganguly than privilege or mischief. That was obvious from the Test century he scored on debut at Lord's in 1996 in an India team who were widely thought to be ripe for a thrashing, when another young unknown called Rahul Dravid made 95 batting at seven. Perhaps the best measure of Ganguly's impact is the transformation in the way in which India were viewed between that debut, and his last Test 12 years later.

It wasn't all down to him, obviously. India had a few decent batsmen like Dravid, VVS Laxman and Sachin Tendulkar, an increasingly potent bowling attack, and an economy that was ready to produce the IPL. But most of those who have watched far more of India's cricket than me are happy to concede that Ganguly's aggressive and intelligent leadership played a significant part.

I never got to know him very well during that Lancashire stint. I'm not sure anyone did. He had a tough job, following in the footsteps of Wasim Akram, who had become a close friend to the major characters in the Old Trafford dressing room – most obviously Flintoff, Mike Atherton and Neil Fairbrother – as well as a cult hero with the members.

The gossip was that the Prince never really recovered from a bad start, on and off the field. The story about him ordering Atherton, then the England captain, to bring him an extra sweater on a chilly day is probably, unfortunately, apocryphal.

But there is no doubting the one about him running out both Fairbrother and Flintoff in a floodlit National League match against a Kent team including Dravid, going on to make a half century, then raising his bat to a deserted dressing room balcony. I was there that night, and also have a vague memory of him wearing a bright pair of shoes, although that appears to be refuted by this hilariously over-the-top reaction.
My most vivid memory is of bumping into Ganguly in the souvenir shop at Derby on a miserable day. He was in there on his own, primarily to keep warm by the radiator, but it was impossible to avoid the conclusion that relations in the dressing room were a little chilly.

Yet chatting to him one-on-one he was polite, engaging company. That's how I've found him ever since – the last time we spoke, in the Durham press box during the one-day series at the end of India's miserable 2011 tour, he was asking for some advice on the most attractive route to drive back to Manchester. Again; polite, intelligent, inquisitive, in those Harry Potter glasses.

I'd no idea, until doing a bit of research for this piece, of the background to his long-standing marriage. Or, for that matter, that he's so widely-known in India as Dada, for filling the role of wise elder brother to the India team, that his column for Wisden India is known as Dada's Pitch.

One thing that has always marked Ganguly as a little bit different is his Bengali background. Kolkata has always seemed the most interesting and exotic of Indian cities, through some combination of reading about cricket matches at Eden Gardens, and about the CPI (M) in my politics degree.

Yet other than Jagmohan Dalmiya, the head honcho of Indian cricket just as it was getting bolshy, Ganguly always seemed to be fighting a lone Bengali battle, with the big names and the big money concentrated in Mumbai and Bangalore. Now, though, there seems to be a new generation of Bengalis knocking on the door – three of them (Manoj Tiwary, Wriddhiman Saha and Ashok Dinda) playing for India A in England's opening tour fixture .

That's encouraging, but it seems unlikely that there will another Ganguly along any time soon. Surely one of the most influential cricketers of the last few decades, and arguably one of India's most significant of all-time.