It's Saif Ali Khan who digitally fades in first on the poster that's set in some Arabic town. That pose, that suit and that look…awesome, we say. And we instantly realise that we've seen Saif look almost the same fairly recently – in Agent Vinod, no? But that's expected, right? 'Coz his character in Race 2 is also secret agent-ish, just like it was in his movie with now-biwi Kareena Kapoor.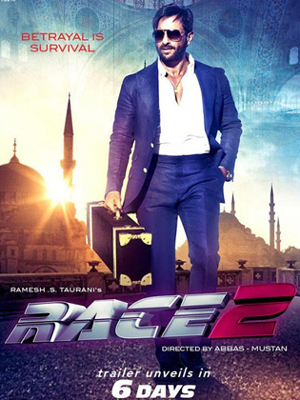 So we stared on, only to see the message 'BETRAYAL IS SURVIVAL' fade in next. Oooh! Now what does that tell us? Simply that our silver screens will witness another revenge-saga soon. Okay, cool. But what's new?

Yet, we kept staring, and that's when we spotted that gold cornered black trunk that Saif was carrying. Ah! What's that? Is that the luggage around which this movie will revolve? If yes, what does it contain? Gold? Naah, that's clichéd.

A deadly weapon, perhaps? Some confidential papers? Or is does it simply hold the clothes Saif wore in AV (wink, wink!), 'coz they would fit perfectly in here too, right? Well, we honestly have no clue what's in there.

And guess we'll have to wait for the first trailer – one that releases in six days – to reveal the secret behind that stylish black trunk. Till then, we wonder if the other male leads – Anil Kapoor and John Abraham – will also carry their own luggage in the posters that might follow.

And what about the female leads – Jacqueline Fernandez, Ameesha Patel, Bipasha Basu and Chitrangda Singh? Will they be seen carrying chic tote bags? Or does Saifu's trunk hold all the lipstick, hair-stuff and lacy nothings that the ladies could need? Stay clued in to find out what this Abbas-Mustan movie has in store!