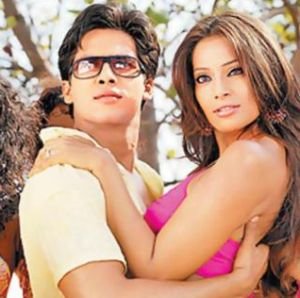 Bipasha Basu and Shahid Kapoor are said to be seeing each-other. A new love story seem to be blossoming in Bollywood with reports that two broken-hearted Bollywood stars, Bipasha Basu and Shahid Kapoor, are seeing each other and are a couple.

Though the reports of Bipasha's break-up with her long-time friend John Abraham are still new for the Bollywood fans, sources close to her say that she is through with pain of being separated from the old love and there is a new glow on her face. Despite falling short of naming him, Bipasha cannot stop talking about a man these days, who has become very close to her and many feel the man she keeps referring to in all her conversations is none other than her new love Shahid. Bipasha keeps talking about a sweet man in her life, who is pampering her with gifts, during their meetings, which happen on a regular basis. Bipasha adds, "Though there is nothing serious between us, we like each other's company." But, sources add that whereas Bipasha may be romantically involved, before making her relation public, she wants to know Shahid in a better manner by spending time with him.

Even Shahid, who allegedly had his second break-up when he recently parted ways with Priyanka Chopra, is said to be showing a great deal of attention towards Bipasha. Shahid recently organized a private party at his residence, where he had invited only some of his very close friends and Bipasha made it to the list that Shahid had compiled for the occasion. While, Bipasha and Shahid are calling it a mere friendship, going by the closeness they are having off-late, people cannot help but feel that they are seeing each-other.