Mr Perfectionist is grilled by his fans on Star Plus. Aamir Khan is promoting his upcoming film Talaash left, right and centre. The actor was last seen on Sony TV's popular detective show CID assisting ACP Pradhyuman.And now he is promoting his movie on Star Plus, where he speaks to his fans from the parivaar. But the superstar found himself in a tricky spot as the questions got a little too personal for comfort.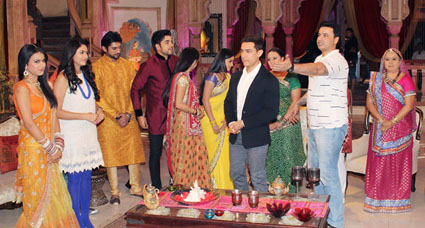 Aamir confessed that three women in his life are most important to him – his mother, Kiran Rao and first wife Reena Dutta. Almost immediately, the actor was questioned about his first marriage, the reason for divorce and the details about his extra marital affair with Kiran. While we are not sure what Aamir answered, we certainly know that the experience couldn't have been too comfortable.

He also spoke about the beginning and ending of his reality show Satyamev Jayate. The members then grilled him about rumours that indicated Aamir had taken up the show only to mint money. Ouch! For the first time Aamir came forward to talk about his family, his secrets and his hopes for the future, at length.
On being asked about his closest friend in the industry, Aamir took a fraction of a second and replied Rani Mukerji. Guess the feeling is mutual. Catch Aamir Khan with the STAR Parivaar on Nayi Sooch Ki Talash Aamir Khan Ke Saath on November 29, 2012 at 8 to 9 pm only on STAR plus!