He is no more just a dashing Indian cricketer liable to brickbats, comparison to peers or his old self or to criticism on form. These are things faced by any non-Sachin cricketer of this generation, and legitimate for someone in the first innings of his career.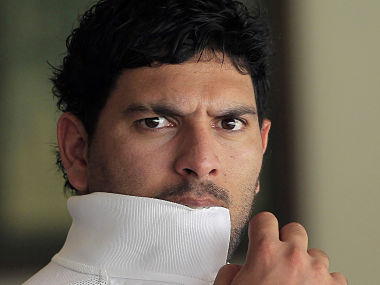 After a debut in the winter of 2000, Yuvraj V2.0 has re-emerged in a different space this year, having undergone treatment for a rare cancerous tumour in his left lung. One of his off-field appearances after his return, which have outnumbered on-field ones, is in an ongoing TV series on a leading channel's prime-time slot.

Yuvraj's treatment, which followed an early-by-all-standards diagnosis o stage I cancer, was undertaken at the Dana-Farber Cancer Institute in Boston, USA, ranked foremost in its state and fifth-best in that country.
Add to that the medicine facilities at Indianapolis, and his treatment could safely be called top-of-the-line. Even though his doctor claimed on the show that the decision was taken to avoid 'media pressure' over local hospitalisation, it may not be the case.

While undergoing chemotherapy, which spurs a cycle of varying amounts of pains and bodily changes but is helped by mental strength and a can-do spirit, Yuvraj was occasionally interacting with his fans through the micro-blogging site Twitter.
The picture of his smiling, bald face in bed made news across media. According to the show's promo, his balding was voluntary, and one of the episodes actually shows the act, his mother Shabnam helping him shave.
During the same phase, Yuvraj began publicly admiring cyclist Lance Armstrong, whose return from stage III testicular cancer was wholly inspiring, until he was disgracefully stripped of his life's titles. Armstrong has since lost considerable credibility and disconnected himself from his charity Livestrong Foundation. Yuvraj's ode in his Twitter handle – Yuvstrong12, remains.

In late January, technically before the news of his diagnosis broke, he tweeted about looking forward to a TV ad he'd starred in while ill. The ad, by a top insurance company, aired through February, peak period for the financial sector, dramatically showed Yuvraj talking about his 'health problem', standing under a downpour.

The earlier instalment of this TV commercial (TVC) had him talking about poor form affecting a player's career. Pertinent to mention, Yuvraj was then and still is a 'Grade A' contracted player, i.e. earning Rs 1 crore a year from the BCCI (Board of Control of Cricket in India).

The TV show, a three-part serving sponsored by the same insurance company, precedes multiple media and public appearances by Yuvraj Singh since his return. While some of them have been on platforms such as news and talk shows, many of them have been in accordance with his brand commitments, which have increased, along with his fee, in the past months.
The website of his foundation 'YouWeCan' lists an MNC apparel brand, a bank, an audit company, an e-commerce firm and a real estate company as partners. It is safe to assume that Yuvraj's kitty may have bulged thanks to this show.
After all, it features exclusive candid footage of his time in America during treatment. Surprisingly for Indian TV standards, the show seems to have tackled the topic well, going by the production of the first episode, which was minus any melodramatic playing up of teary moments one may expect.

There is also a book in the offing, titled Arrogant Master, which is going to be about his father he doesn't stay with, besides his cancer battle. Also, come 2013, Yuvraj will return to his IPL (Indian Premier League) team Pune Warriors, the fees of which (Rs 9 crore-plus) were reportedly remitted to him by the team owner last year too, despite his total absence.

Judging from now, Yuvraj's 'inspiration marketing' ('milking it', for a pedestrian term) has just begun and will be on an upward curve till his last appearance for team India (or his IPL team, as the trend goes). Worthy to add, it will remain so notwithstanding performances in his primary game.

Now the question that's perhaps bursting from your mind – 'Why not?' And herein lies the grey area, there being no correct answers, just perspectives. To audiences of his initiatives and endorsements, this would undoubtedly be impactful.

To cancer survivors across classes, each appearance would be inspirational to fight their own battle with more belief. More so, the YouWeCan Foundation is slated to chip in to make good the weak infrastructure of cancer diagnosis in India.

To brand managers, TV channels and motivation marketers, Yuvraj will remain the hero he is now. Who doesn't like a top cricketer (aptly accompanied by his single mother) make his personal battle against cancer public? It's a reality show each time he faces the camera.

To cynics, (no prizes for guessing if this writer is one) the Yuvraj Singh story will be about cashing in a lifetime rooting's from little beyond a well-looked-after struggle which lasted under a year. Unfortunately, this category is in the minority and much ridiculed in this country these days for voicing opinions.

As for fans, it is unlikely that many would be able to view Yuvraj without the above filters of rose-tinted sympathy. Facts such as him still struggling to cement his test spot 12 years after debut, his early elimination from the captainship race and his recurring weakness against spin are likely to be shouted down by the C-word.

That said, Yuvraj's inspiration marketing is based upon infallible foundations that are etched in our memory; his prolific pulls and cover drives, the celebrated all-six over or his last one-day match appearance.
Where he went down on his knees, covered his face and wept in the middle of a delirious stadium in Mumbai, leaving us with little option but to do the same. If he delivers more of these for half a decade more (Yuvraj is 30 now), the chorus asking 'why not?' for his other travails will only get louder.