God loves me more than most," smiles actress Chitrangada Singh when we ask her on her Lucknow visit how it feels to have made it in Bollywood despite the obvious hindrances - being married and a mother. She adds, "I was a complete non-actor when Sudhir (Mishra) offered me my first film.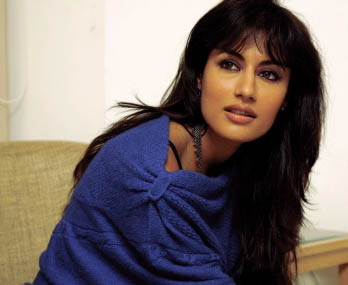 I had no idea about this industry. Frankly, I didn't plan my future like this at all. Everyday, I thank the industry and the Almighty for giving me so much love and affection. Bollywood welcomed me with open arms despite the fact that I was married."

From an actress to an item girl now (she did an item song Kaafiraana in Joker), Chitrangada's gone places, but at her own pace. "I am in no hurry to do films. I don't say yes to projects just for money, that has never been my concern.
I take up projects which give me a kick. Like recently, I hosted an award ceremony. It was a fun thing, though I was nervous for the first half an hour. Even the item number that I did in Joker, it was different. I don't like doing routine stuff," she says.

And Chitrangada seems to be doing rather unusual stuff these days. For instance, dating Arjun Rampal for a film, if reports are to be believed. The dusky beauty laughs and says, "The rumour doing the rounds that I am hanging out and going on dates with Arjun just because Sudhir asked us to for the movie he's directing us in, Inkaar, is all rubbish.
Arjun and I didn't go on any date, we just met for a couple of times to know each other so that we would be comfortable shooting together." But don't such rumours affect her married life? "Not always, but sometimes they do. Waise toh meri family and my husband ( Jyoti Singh Randhawa) know how to handle gossip, but sometimes, like this time with Arjun, the situation at home became really awkward. Not that they say anything to me, but the situation gets weird."

Muse and the mentor
Chitrangada has also recently acted in a 10-minute short film by Sudhir Mishra, The Clean Up. "The experience of acting in a 10-minute film, when compared to a three-hour-long film, is obviously very different.
The major challenge as an actor is to bring out the required emotions and convey the storyline within the stipulated time. Every second counts. But Sudhir has done a fabulous job in getting the right emotions out of me. When Sudhir narrated the story to me I just couldn't say no to him," she says.

That's an oft-repeated line in Chitrangada's interviews. Does that mean that when it comes to Sudhir, scripts are secondary, and that she will star in Mishra's films is a foregone conclusion? "Well, Sudhir launched me and it is very difficult for me to say 'no' to him.
I was a complete non-actor and he gave me the tag of an actor with his efforts. When he offers a movie to me it is not that I am always convinced of the script, we have arguments and I put forward my POV. But that doesn't mean that I can't say 'no' to Sudhir. Of course, I can. But as of now, I have not had the reason to do so," she smiles.