The original serial-kisser of B-town is all set to thrill us with his movie that will be released on Friday. And it makes us wonder who is next in line for a lip-lock. It's no secret that Aamir Khan has no qualms about locking lips with his leading ladies.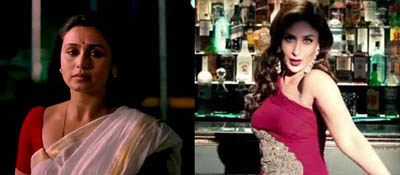 And the sweet aftertaste of his naak beech mein kyun nahi aati smooch with Kareena Kapoor in the last scene of 3 Idiots only makes us wonder whose turn will it be this time around. And we wonder hard 'coz both the leading ladies in Talaash – Rani Mukerji and Kareena – have been 'kissed' before by Mr Perfectionist. So quite understandably, there won't be any 'awkward' moments, right?

But who stands a better chance? Rani, perhaps, 'coz she is Aamir's legally wedded wife in the movie. And it's only fair to expect some domestic chemistry between the pati-patni, no? But then Kareena could be chosen too, thanks to her persistent seduction we witnessed in the promos. And if Bebo is indeed chosen yet again, will she pop the question – moochh beech mein kyu nahi aati (why doesn't the moustache come in between)? We hope not!

Anyway. Owing to all these possibilities, we're tempted to conclude that Aamir probably has not one, but two (hawww!) smooches in Talaash. Why then – and we fail to understand this – did the makers not show even a fleeting glimpse of these lip-locks in the trailers? Will it slyly creep into the thriller to surprise the unsuspecting viewers? Possible. But let's assume and speculate, even if only for some naughty fun – Kareena Kapoor or Rani Mukerji: Who will Aamir Khan kiss in Talaash?