Malnutrition in India finally has become glamorous. Instead of seeing boring images of malnourished kids in Melghat and elsewhere in the country, you will be soon be treated to airbrushed and sanitised messages on nutrition across all media featuirng new age social icon Aamir Khan. Keeping up with the high-profile nature of the brand ambassador, the campaign was launched by the President at a glittering ceremony last week.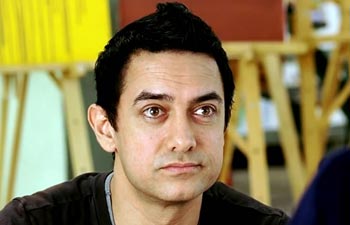 Minister for Women and Child Development Krishna Tirath is pinning all her hopes of eradicating malnutrition on this campaign, which she says "would create greater sensitivity for women and children and bring about a behavioural change" Khan, it seems, has provided his services pro bono publico, but it is not clear if his creative companion Prasoon Joshi and ad agency McCann have also done the same.

At the least, it appears to be yet another cruel joke on an issue as grave as malnutrition. To appoint Aamir Khan - who has endorsed junk food like colas and biscuits for a significant part of his career - as ambassador for nutrition or malnutrition is simply absurd.
It would be like making Nana Patekar - who has been brand ambassador of GM seeds of Monsanto - a champion of organic farming or brand ambassador against farmer suicides in Vidarbha or like featuring Fardeen Khan (endorser of Pan Bahar pan masala) in a campaign against oral cancers or asking Hema Malini (of Kent water purifier ad) to promote national drinking water mission.
While ministers and officials of the Women and Child Development Ministry were rubbing shoulders with Khan and Joshi, thousands of Anganwadi workers - who implement mid-day meal and other health and nutrition related schemes in villages across the country - were agitating on the streets of the capital and other cities demanding better wages.
They are real ambassadors of the nutrition programme - the Integrated Child Development Scheme - in villages as the only available government functionary in a village, along with ASHAs or Accredited Social Health Activist. It is a pity that these workers don't even get equivalent of minimum wages.

On top of it, ICDS is being privatised in many states with contracts worth thousands of crores flowing to dubious companies. Only after the murder of liquor contractor Ponty Chadha it emerged that a company owned by him had been contracted to supply meals under ICDS in Uttar Pradesh.
Biscuit makers have been lobbying for a long time to get into this 'business' seeking to replace hot, cooked meals with packaged stuff. Britannia and Pepsi CEOs already pride in calling themselves 'champions of nutrition'.

Instead of taking a call on reforming ICDS - as suggested by umpteen number of expert panels - and making the delivery system robust by paying Anganwadi and ASHA workers their, the government is making the fight against malnutrition a sham.