From her debut with the 2000 film Refugee to her latest release Talaash, Kareena Kapoor has come a long way in her decade-long career. The actress says she picks different kinds of roles as she prefers taking risks when it comes to choosing films.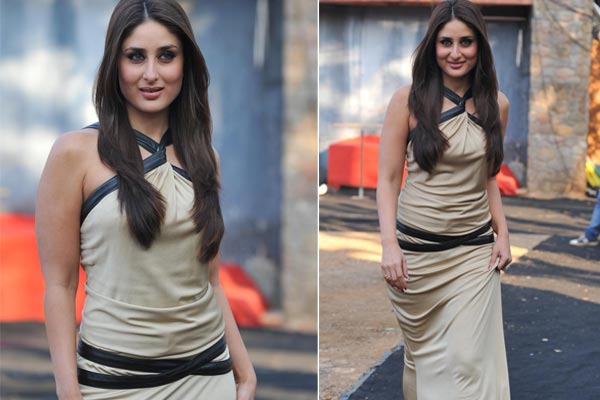 Be it a masala film like Bodyguard or a woman-centric movie like Heroine, Kareena has it all in her kitty. The 32-year-old Bollywood A-lister says it is her duty as an actress to dole out a variety of films for her fans. "It is the duty of an actor to try and pick up different roles, be a little brave about the whole thing. Sometimes films will work and sometimes they won't. It's fun taking risks.

I just can't just keep looking pretty and doing a song-and-dance film," Kareena told PTI in an interview.The actress said people had asked her not to play Riana Briganza in Shakun Batra's Ekk Main Aur Ekk Tu earlier this year, as the film was slightly unconventional.

"When I was doing Ek Main Aur Ekk Tu, everyone said it is slightly non-commercial, since the boy doesn't get the girl in the end. I only did the film because people were saying that. I told Shakun that if you change the end of this movie, I'm not doing it. That was me.

I wanted to do Riana Briganza and wanted my year to end with something totally bizarre like Talaash. I'm happy with both," said Kareena. This year has been quite colourful for Kareena. While in Aamir Khan starrer Talaash she played the spirit of a prostitute, Madhur Bhandarkar's Heroine had her star as a Bollywood actress.

Kareena also turned out as an ISI agent in Agent Vinod and will be next seen in an item number in Dabangg 2. "I always try to balance the mass-oriented films with the other kinds. My fans love to see me in commercial stuff as well, for that there is the item song Fevicol se that I have done for Dabangg 2.

"It's nice to do a role like Rosie in Talaash, who is so sensitive, and then something like this song. People should see that I am trying to do different things and not just confidently doing my own thing or repeating the same," she said.

Talaash opened to postive reviews on November 30 and Kareena's performance has been lauded. The actress said this a good sign for the industry. "People have liked the film as a whole and my role has been appreciated. It kind of gives hope and faith to actors that there is space for good cinema and a good story."

The film is a suspense thriller, which sees Aamir playing the role of an inspector investigating the death of an actor, while Kareena's character helps him out. "Aamir has a lot to do with my decision to do this film, every actress wants to work with him.
But that aside, when I heard the part they were offering me, it kind of blew me away," she said.Kareena said the film's success also shows that an actress' marital status doesn't really affect her career. "I'm happy that Talaash has done well, because it shows that it really doesn't matter whether you are married or not, it's all about being part of a good film."
Having tied the knot with Saif Ali Khan in October after a five-year relationship with the actor, Kareena said her life hasn't changed much post-marriage. "I don't understand why such a big deal is being made about my marriage. I married the man that I love and I am happier. Life really hasn't changed much."