A local court today issued summons to Salman Khan and a police officer to appear on 27 December to answer charges of giving false information and producing wrong witnesses as a result of which the trial in a hit-and-run case involving the actor was delayed by around five years.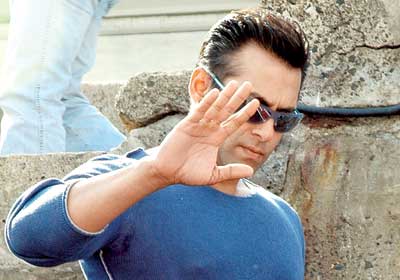 The summons were issued by the Additional Chief Metropolitan Magistrate of the ninth court at suburban Bandra who heard a complaint filed by social worker Santosh Daundkar. The complaint alleged that on the basis of false information given by the police, a wrong set of doctors were examined in court during the trial.
As these doctors were not concerned with the case, they were either discharged or were not examined, and as a result, the trial was delayed. The complaint also urged the court to order an inquiry into the charges of deliberately giving false information as a result of which the trial was unnecessary delayed. It also said that giving false information to the court was an offence and this was done by the police at the behest of the actor.

The complaint further alleged that even after the court directed that correct medical officers concerned be produced as witnesses, the police once again submitted false information about the medical officers. This was allegedly done to delay the trial so as to favour the actor who earned pecuniary gains by giving hits in Bollywood such as Dabang, Ready, Bodyguard and Ek Tha Tiger, besides the Big Boss television show, the complaint alleged.

Summons have been issued to Salman and a senior Inspector of the Bandra police station. On September 28, 2002, Salman Khan's Toyota Land Cruiser had rammed into a bakery in suburban Bandra, killing one and injuring four others who were sleeping on a pavement.

The actor was booked on a charge of culpable homicide, not amounting to murder. However, he said that it was merely an accident and he did not have any intention to kill anyone. The Bombay High Court had held that Section 304 part II of the Indian Penal Code (culpable homicide not amounting to murder) was not applicable in the case and that the actor be tried under Section 304 A of the Indian Penal Code (rash and negligent driving) and other relevant sections.

The court had framed charges against the actor under Section 304 A of the Indian Penal Code (rash and negligent driving), Section 279 (rash driving), Section 337 (causing minor injuries), Section 338 (causing major injuries) and Section 427 (negligence).

Earlier this year, the police had again sought that the actor be tried for more the serious charge of 'culpable homicide not amounting to murder'. The application is still pending. The prosecution has examined 11 witnesses ever since the trial began in 2005. However, two witnesses, Ravindra Patil, his police bodyguard, and Ramasray Pandey who witnessed the incident, turned hostile.