After having a disappointing first day of the third Test against England, on Wednesday, where the batsmen faced an outstanding swing bowling while facing the likes of English pacer James Anderson, as they were restricted on 273 for the loss of seven wickets.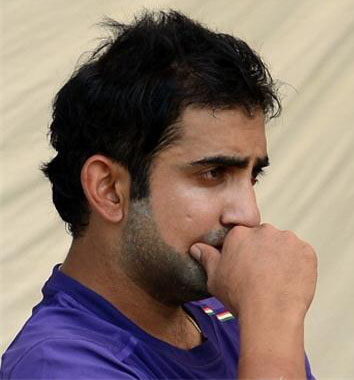 Indian opener Gautam Gambhir, who saw three of his batsmen go down against Anderson, hopes to see his strikers Zaheer Khan and Ishant Sharma return the favour when they take the field. In his interview after the close of play, the opener, who lost his wicket after scoring a brilliant knock of 60 runs said, "Zaheer Khan is a master of reverse swing.
If he gets going I think it would be worrying for England. Hopefully, Zaheer and Ishant can do the job for us and play a big role for India. This is a wicket which will have something for everyone. It has carry, and sometimes the ball remains up and down."

India were left surprised with the swing that was generated by Anderson, who grabbed the prized wicket of Sachin Tendulkar, who perished with a knock of 76 to his name. He was the highest scoring batsman for India, while the rest of the Indian batting brigade looked juvenile against the English swing.

Sachin's wicket apart, Anderson also had the better of the dangerous Kohli, who was allowed to score only six runs before getting caught by Graeme Swann. Praising Anderson, Gambhir reckoned, "He didn't give loose deliveries. It was reversing and he was hiding the shine as well. It really gets difficult when someone hides the ball as you're not able to see the shine of the ball and don't know which way it would go. Ultimately you have to play the ball late."

Meanwhile, Anderson who got through Ravichandran Ashwin's defence towards the end to complete his three-wicket haul, was pleased by the way his side grabbed wickets and prevented India's dangerous batting line-up from getting carried away. Today was the 8th time Anderson grabbed Tendulkar's wicket in 13 Tests.