Sweety ji might have transformed into Sweets – the modern mommy, but her traditional heart is still in place. A while ago, we saw Shweta Tiwari turn into a hep and happening mommy, a la Mandira aunty (Kamya Punjabi) aka Mandy. But the makeover couldn't stop Sweety ji from fretting over her son Rocky Singh Ahluwalia's (Tapasvi Mehta) well being.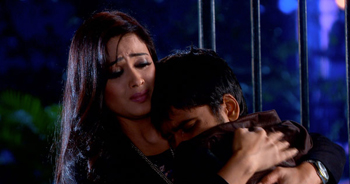 Rocky is attending a party that's overflowing with booze in the outskirts of Delhi. And just when the scared Rocky is about to step up and perform a stunt against his innocent wishes, Sweety ji steps in and stops him. On the other hand, Yudi Bharat, Rocky's supposed best friend who is totally drunk, refuses to come along with Rocky and his mom. Just then, the police raid the party and declare it illegal.

While Yudi leaves separately in his car, Rocky and Sweety ji follow him only to make sure that he is safe. Alas, as today's episode will near its end, Yudi will meet with an accident – thanks to drunken driving. Will Sweety ji be able to save Yudi's life? And will this mishap knock some sense into Yudi's mom Mandira? While it's time to wait and watch, tell us, readers, what do you think will happen next?