We think she is, especially when we spotted her at the launch of dance reality show Nach Baliye 5. B-town mommies start taking conventional style routes post-pregnancy. Anarkalis, shift dresses and anything that's loose suddenly seem to be the trend that they follow with great diligence.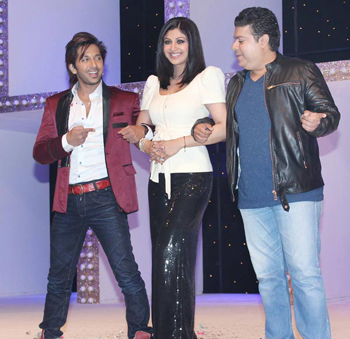 But Ms Shetty has decided to bend the style rules rather than breaking them. And it looks like she's doing so by keeping a fine balance between run-of-the-mill options and eccentric statements. She's taking it easy by opting for statements that usually every Bollywood yummy mummy dons (case in point: the white ethnic ensemble she wore recently at Abhinav and Ashima Shukla's wedding reception).
But she's also taking risks by wearing clothes that make us go all 'voooo!'…At the Nach Baliye 5 show launch event Ms S was seen wearing sparkly black pants and a white top cinched at the waist and puffy at the shoulders. The short hair lends a sophisticated yet cute look to Shetty's personality.
She looks great waist up, and the bling bottoms aren't disastrous enough to make us go altogether mad at the Nach Baliye judge for choosing it. It's one of those adventurous looks you feel like giving a thumbs up to 'coz you know that the other la-di-da babes from the fraternity will think twice before pushing the envelope in such a funky way. And very few of them have the nerve to do so.