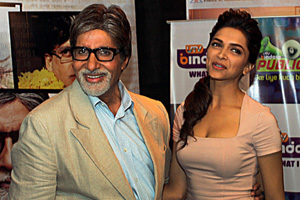 Mega star Amitabh Bachchan says Prakash Jha's 'Aarakshan', which explores the politics behind caste-based reservation, is his first issue-based film. "Aarakshan is a film on the reservation policy for securing placements in education and jobs for the poor and underprivileged and those that get affected because of their caste," Bachchan told a press conference here on the Prakash Jha film.

"The two earlier films Saat Hindustani, Main Azaad Hoon (on nationalism) were more event-based and this is my first take on a serious footing which deals with a challenging issue." Asked about his beliefs on the issue, the 68-year-old superstar said he has not been brought up in an environment which bred prejudice and casteism. "My father a kayastha from Uttar Pradesh had married a Sikh woman. At the time of my school admission my father deliberately kept out the surname of Srivastava and instead opted for the middle name Bachchan as my surname. I am proud of that.

"My brother married a Sindhi and my daughter married a Punjabi. My son married a girl of different caste from the South while I am your 'jamai' (brother-in-law) having married a Bengali. So this probably answers your queries whether I am a believer in casteism," Bachchan said.