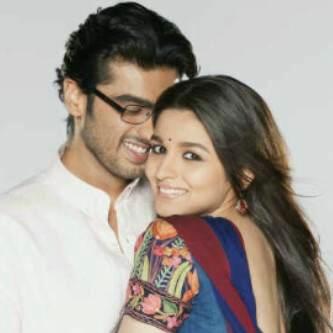 The first look poster of the adaptation of Chetan Bhagat's 2 States is out. While Arjun Kapoor looks like a handsome nerd in spectacles, Alia Bhatt looks cute as a South Indian chick. Alia Bhatt and Arjun Kapoor are all set to portray the leads in the filmi version of Chetan Bhagat's love story, 2 States. While Ishaqzaade dude Arjun will be seen playing the role of North Indian Krish, Ananya will be getting into the garb of the spicy and intelligent Southie Ananya Swaminathan. In the book, the two IIM grads hit it off pretty well. The intelligent Krish and the straightforward Ananya make for a lethal combo.
But as soon the as the two decide to tie the knot, they realize the implications of the huge cultural clash – and since that's also the premise of the story, it's imperative for Arjun and Alia to look and sound like a North Indian guy-next-door and a smart South Indian chick. While we don't doubt Arjun's thespian skills, Ms Bhatt fails to convince us that she will be able to play Ananya. We agree that AB has done just one movie (Student Of The Year) and we should give her the benefit of the doubt, but one movie is enough to judge the potential of an actor, isn't it? After all, Arjun too has just one film in his resume and in that, he impressed hugely.

Why we think Alia is not cut out for Ananya's role? Ananya is mature and confident. She's level-headed and takes control of the situation in the story. Alia still looks very immature. Even if she's asked to imbibe these qualities onscreen, we wonder how realistic she will be – after all, she is only 19 years old. Trust us, your voice makes a lot of difference in making a character convincing. When you read about Ananya, you imagine her to have a forceful voice, whereas Alia has a very shrill tone, childish and pampered. Ananya is a girl with grey matter, whereas Alia played a hardcore bimbette in SOTY. It's difficult to imagine the uber stylish, la-di-da, mentally vacuous girl from SOTY step into the shoes of a middle-class, ethnic young woman who is intelligent and fun-loving. Of course, the starlet could prove us wrong. And we have to confess that we think the pairing is a breath of fresh air. Arjun and Alia look hot together!