There must be something about the Deols that continue to inspire filmmakers and when served as a family pack with dollops of emotions and high drama, never fail to amuse the audience. As the success of Yamla Pagla Deewana has proved, the three are better as one. And if the latest reports are anything to go by, this year will see the father-sons combo will feature in at least three films, playing themselves or inspiring characters that resemble their unique dynamics. The YPD sequel that brings Dharmendra, Sunny and Bobby together on screen is scheduled for June 7. And as TOI had reported, Subhash Ghai has already signed up the trio for a rom-com, Ishq De Maara.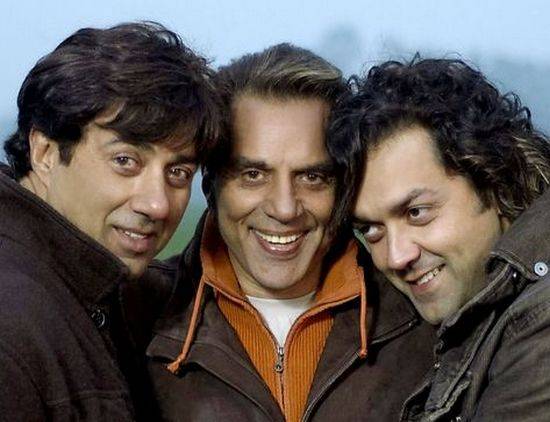 "The film is about a father and his two sons. All three of them are in love and hiding the fact from each other," says the filmmaker who dashed to London when the Deols were shooting for the sequel to sign them for his family entertainer. Ghai said the reason he wanted to sign on the Deols was because the characters closely resemble these actors. "I have known Dharamji (Dharmendra) for the last 30 years and I have worked with Sunny in Right Ya Wrong (2010). They are a wonderful family, very different from the usual film families. I wanted to make a film on them to show the world what they are really like, hence Ishq Da Maara. In fact, Sunny was the one who suggested the title," says Ghai who is gearing up to start the film post August after Kaanchi with Mishti and Kartik Tewari keeps its date with the Independence Day.

Meanwhile, the director of the YPD sequel Sangeeth Sivan, also has similar plans. The script of Cheers is ready and has been waiting for the last year-and-a-half. "Once Yamla Pagla Deewana 2 is out of my system, I will focus on Cheers," says Sivan. Despite its title, Cheers is an emotional story of a son and a misunderstood father and how relationship changes. "Sunny wants to launch both Cheers and Ghayal Returns under the Vijayta Films banner with Dharamji as the producer this year, both scripts are locked ," says a friend of the Deols. While Ghayal Returns is Sunny Deol all the way, Cheers revolves around Dharmendra and Bobby. Says Sivan, "If I can write in a in a character for Sunny that will justify his presence, then even he will join his father and brother. Cheers to that!"