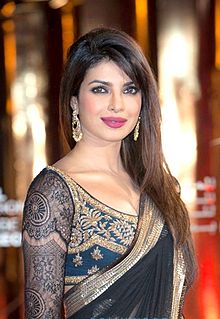 The Barfi! babe seems to have been smitten with the new rage high waist short shorts! Priyanka Chopra is a killer! The babe can slay men with her deadly oomph. But in this cover, she simply killed the look by donning an odd underpants. Standing tall with oodles of conviction on the cover of Vogue India, March 2013 issue, the Barfi! babe looks gorgeous. But what has not gone well with the overall look here is Priyanka's andar..err… under ki baat. The strapless bra and the long white overcoat add a lot of power to this shot.
Piggy Chops' piercing gaze and her pose coupled with the lighting used, spell a lot of command and make for an interesting cover. The concept of this shoot is highly unconventional and we must give a thumbs up to the innovative idea. The colour coding and uniformity of the look make the picture neat, clean and solid.
Priyanka's make-up, including her nails are in sync with the concept. (And hey, we even noticed the cool ring babe!). The hairdo though has not impressed us in a great way, and what has definitely let us down is the high waist short shorts. Remember Posh spice, Victoria Beckham was one of the first to do it on the red carpet at some event a couple of years ago, but have they done justice to this cover shot? we don't quite think so!