Although Bollywood actor Sanjay Dutt told media persons on Thursday, March 28 that he would surrender on stipulated time and haven't appealed for pardon, yet his sympathisers are seeking "forgiveness" for him. Latest to join the tribe of politicians and film actors seeking mercy for Sanjay is actor-turned-politician union Minister for Tourism K Chiranjeevi "He has suffered a lot. If he gets mercy, then nothing like it," Chiranjeevi told reporters in New Delhi on the sidelines of a tourism-related event on Wednesday, April 4. "He is regretting what he has done. He is a nice person. I pray for him from the bottom of my heart. My sympathies are with him," he added. The 53-year-old actor said he would abide by Supreme Court's decision.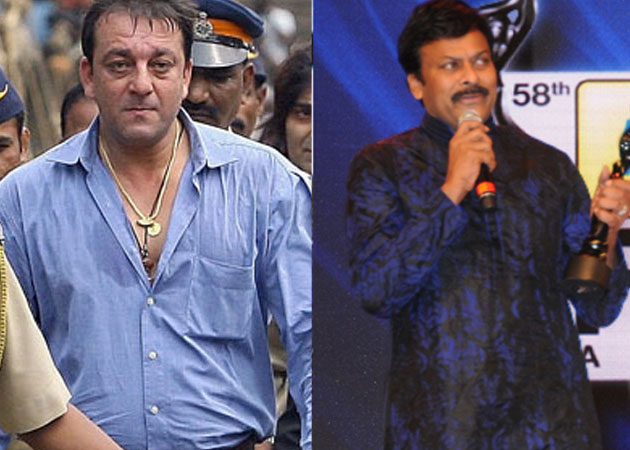 The Supreme Court on Thursday, March 21 upheld actor Dutt's conviction under the Arms Act, but reduced his sentence from six to five years in the 1993 Mumbai blasts case. Since the actor has already served 18 months of jail, now he has to spend another three-and-half-year in prison. Dutt has to surrender within four week's of apex court judgement. Expelled Samajwadi Party leader Amar Singh and Lok Sabha MP from Rampur Jaya Prada met Maharashtra Governor K Sankaranarayanan on Tuesday, March 26, to seek pardon for the actor. The apex court found the actor guilty of acquiring illegal weapons from those blamed for the bombings in Mumbai that killed 257 people and was given four weeks to surrender.
Politicians and political parties are openly expressing their views whether Bollywood superstar Sanjay Dutt should be sent to jail or not. Earlier, several celebrities including Press Council of India Chairman Markandey Katju and actor-turned-politicians Jaya Bachchan and Shatrughan Sinha had sought pardon for Dutt. "He (Dutt) has already been punished enough. Twenty years is almost like life imprisonment. I mean he suffered for twenty years and I think to do this to him at this time... I am going to personally meet the Governor," Bachchan had told reporters outside Parliament House recently. However, voices against showing any leniency to the convicted criminal are also growing. BJP leader Meenakshi Lekhi and Janata Party supremo Subramanian Swamy are against pardoning Dutt in the 1993 Mumbai blasts case.