It is T20 IPL cricket season in India again. Able bodied young, old, superannuated and dropped cricketers from across the world have converged to try and hit the ball like Chris Gayle, the Don Bradman of capsule cricket, with the added ability to do the Gangnam Style dance. T20 cricket has subsumed evening prime time at the cost of others that usually draw attention. Thus, interest in Arvind Kejriwal's hunger strike has has taken the back seat. The activist turned politician did not eat for many days, lost lot of weight, but had to pack up his few diehard followers to go home as his health deteriorated. Perhaps, Kejriwal should have stuck to being an activist. Indians in general don't like politicians. Rahul Dravid in action for the Rajasthan Royals. Pic: AP. Meanwhile, there has hardly been any analysis of one more speech by Rahul Gandhi that again underlined his ability to speak like a very intelligent undergraduate student.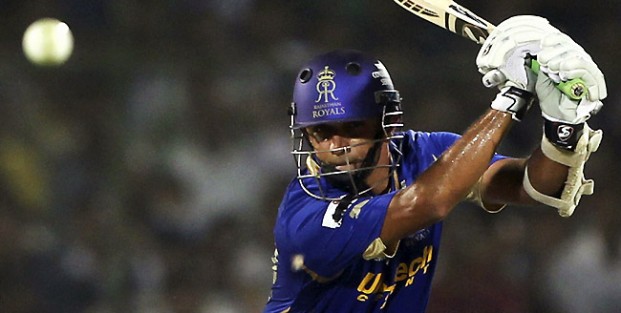 The guy is improving but needs to graduate to the next level. Due to cricket, nobody has had the time to read between the lines of another loud and aggressive Narendra Modi aggressive speech that is supposed to subtly convey to his detractors in the BJP that he deserves to be Prime Minister of India because of his Gujarat performance. If Sanjay Dutt were to be pardoned, the media play would probably be after Stuart Binny's blistering knock. I did not know who Binny was till yesterday. Now everybody knows he is the son of Roger Binny, a gutsy yesteryears cricketer. Dutt must be wondering in relief where the omnipresent TV cameras outside his house have disappeared to. Even Justice Katju has been uncharacteristically quiet.With his superior acumen he has probably figured that that he will be unheard in the din of cricket balls smashed around and sexy girls dancing and hip shaking between overs and sixes. The T20 marketing strategy has been worked out.
The assumption is like porn anywhere and masala Bollywood films in India, Indians can never have too much of cricket. There will always be enough watching the game at any time to keep everyone happy – management, promoters, cricketers, sponsors and TV channels can all make their profits. In order to garner local support and fervor, players have been advised to speak emotionally about their attachment to the city they represent. For example, Rahul Dravid has spoken about his love for Jaipur as his wife shopped there some years back. Anil Kumble has spoken about the night he walked on Marine Drive when he realized he was a Mumbaite. MS Dhoni loves Chennai as he drove a bike there once. I love Timbuktu because the sky there is blue. The cricketers are happy.
It is very good money for a few weeks work. Youngsters – pestered by parents to study, get a job and stop playing cricket – are national heroes. Players in their rickety 40s such as Dravid, Ricky Ponting and Adam Gilchrist, who could be brushing up their English to write cricket columns for leading newspapers, find their playing careers extended. Only Sachin Tendulkar is doing what he is supposed to do in his 40s, enjoying the game without scoring runs. Meanwhile, the commentators alternatively speak Hindi and English to address the equally important India and Bharat viewers. This can be a little uncomfortable for some. The usually suave Harsha Bhogle has been trying to stick to rehearsed Hindi clichés like, anything can happen in cricket or cricket is a game of uncertainties. For other parts of his Hindi analysis he smiles, assuming that the viewer will be able to read his thoughts in English. Mohinder Amarnath has no such problems. Both his Hindi and English sound like Hindi. Still, there is talk that IPL may be losing steam and the moneymaking may not be sustainable. Like Tendulkar's retirement, maybe it will happen, maybe it will not.