One of India's biggest movie stars, Shah
Rukh
Khan, will arrive in Auckland tomorrow for a glittering show - and safe in the knowledge he is not to face an unusual criminal charge in Mumbai. Khan's Temptation Reloaded show, with a cast of 110, will play to what is likely to be a sell-out audience at the Vector Arena on Friday with the cheapest tickets - way at the back - going for $199. The best seats in the house go for $650. Its promoters say it's not the most expensive show performed at Vector - Andrea
Bocelli
owns that
honour
. Publicist Sandra Roberts says it is not a cheap show to stage with its massive cast and its big stage effects. "The promoter doesn't bring him all this way for charity," she said.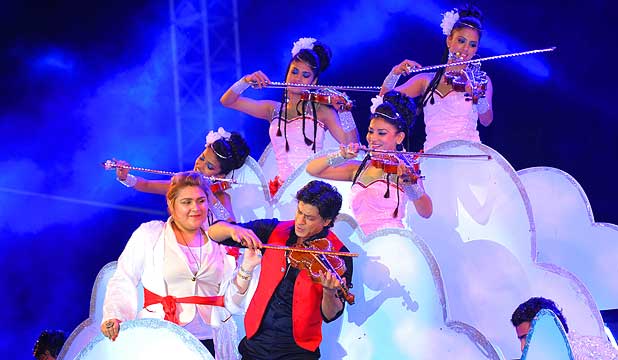 "He is Bollywood's biggest star." The legendary
Amitabh
Bachchan
might disagree but Khan claims a personal worth of about NZ$650 million and calls himself the "king of Bollywood" - a play on his first name which means "face of a king". He is married to film producer
Gauri
Chibber
and the couple have three children. His youngest daughter,
AbRam
, born on May 27, has been the
centre
of court action. The Bombay High Court yesterday ruled a complaint filed by social activist
Varsha
Deshpande
against Khan and his wife, accusing them of conducting sex determination on
AbRam
, was "unfounded".
The Indian Express cited Justice
Sadhana
Jadhav
as saying it was not a frivolous complaint, but did not meet the standard set by the Pre-conception and Pre-Natal Diagnostic Techniques (Prohibition of Sex Selection) Act. The judge said Khan and his wife were "affluent people who can afford a daughter ... they would not do all this." Khan's most recent of 75 movies, Chennai Express, has rated highly in New Zealand this year, as was a 2010 film, My Name is Khan. He is a part-owner of the Kolkata Knight Riders in India's Premier Cricket League. Khan's Auckland show - to be repeated later in Sydney and Perth - will also feature Bollywood stars
Madhuri
Dixit
,
Rani
Mukerjee
and a Miss Sri Lanka, Jacqueline Fernandez.