It's fair to say that the Bollywood film industry remains very much a family affair. Yes, a few so-called outsiders are able to come in and make their mark; however, the advantage tends to lie with those individuals who have grown up within the fraternity. With less than half a dozen releases between the two of them, actors Alia
Bhatt
and
Arjun
Kapoor
are two examples of a new generation, with their latest film, 2 States, in the can and ready for release.
Kapoor
is the son of successful film producer
Boney
Kapoor
and nephew of actor and producer Anil
Kapoor
(of
Slumdog
Millionaire fame), so he has grown up on film sets. "Definitely the added advantage is that there's a lot of love from within the industry that you get," he says. "There are a lot of people that know you beforehand so they're always praying and rooting for you. There's a lot of confidence that comes from knowing that people within the industry think you have the potential. But beyond that, no one can come and act for you in front of the camera. It boils down to what you can do."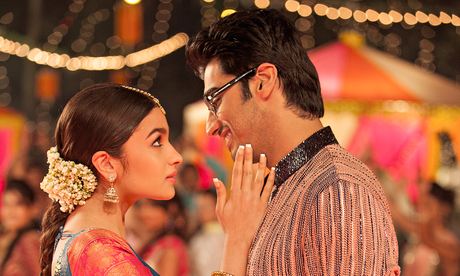 Bhatt
, by contrast, says she had a very normal, protected life away from the industry. Her father, director-producer Mahesh
Bhatt
, tended to keep his family away from the world of
showbiz
. But this didn't hamper her dreams of stardom. "Ever since I can remember, I wanted to be an actor. Initially, the interest was dancing, because Bollywood is about song and dance, but then the interest kept on growing. I literally came into the industry when I came into the industry though. I wouldn't say I grew up with it," she says. Over the years, Bollywood has spread its wings significantly. Not only are films entering the top 10 international box-office charts more frequently, but international film production companies are investing in the industry, while Bollywood actors being given more opportunities to star in Hollywood and British films. Speaking about the change he's seen first hand,
Kapoor
says: "It's become a profession. There was a certain way films were made, but now especially, there is a lot of professionalism that is involved. I think there is also better writing, as more interesting stories are being told."
The pair seem completely at ease with one another, and this comfort level is replicated on screen. Though they've dismissed any
rumours
of a real-life linkup, their on-screen kiss, which can be seen in 2 States trailer, has made headlines across the country. "It's interesting that it comes down to the fact that you put a kiss in a trailer and that gets spoken of. There's a lot more in this trailer than that kiss. There are a lot of layers in the film," says
Arjun
. Intimate scenes have always been a taboo subject in the Indian film industry, with certain actors even demanding a specific no-kissing clause in contracts. But in the last decade or so, a number of A-list celebrities have been seen locking lips with their co-stars on screen if the script demands it, be it
Aishwarya
Rai
Bachchan
and
Hrithik
Roshan
in
Dhoom
2, or
Anushka
Sharma and
Ranveer
Singh in Band
Baaja
Baaraat
.
Bhatt
says: "In the beginning of the film we're in a live-in relationship, so obviously when you're in a live-in relationship with someone that you love, what do you do? How long can you keep your hands off each other?"
Kapoor
agrees, saying: "If today we can't speak about a live-in relationship with a kiss in Bollywood, then I think we are degrading our audience's sensibilities."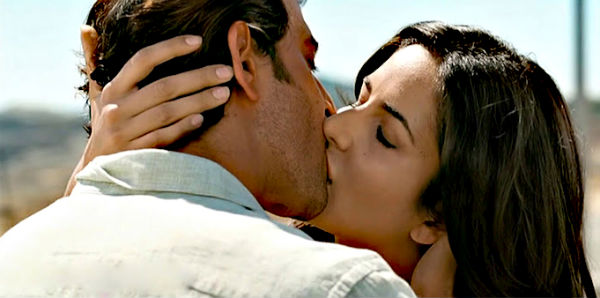 Based on the book by
Chetan
Bhagat
, 2 States follows the ups and downs of modern, forward-thinking couple
Krish
Malhotra
(
Kapoor
) and
Ananya
Swaminathan
(
Bhatt
), who meet each other as students. However,
Krish
is a north-Indian Punjabi boy from Delhi, while
Ananya
is a
Tamilian-Brahmin
girl from Chennai in the south of India. Problems soon arise for the couple when they decide to get married, but agree they won't move forward with their wedding until both families approve.
Kapoor
describes 2 States as a film about the youth of today, enabling people, specifically those with a western background, to see how different the second and third generations of Indians are from their parents. He adds that though today in India live-in relationships are accepted, there is still a strong need of parental approval when thinking about marriage. So the film is a blend of the modern and the traditional.
"I feel that marriage and Indian culture is very prominent in our film, but in a very contemporary and modern way,"
sasy
Bhatt
. "We've kind of cranked it up a notch so the youth can relate to it, but also the elders too." Though they're still making their mark in Bollywood, when asked if they would consider working on any international projects, both
Bhatt
and
Kapoor
are quick to say, "We'd love to."
Bhatt's
dream job includes working with Robert
Pattinson
, whereas
Kapoor
joked: "My list is a little different. I would love to work with De
Niro
, Al
Pacino
and Jack Nicholson. I like Jennifer Lawrence and Mila
Kunis
, too but wishful thinking can go on."