Kajol
is known as the dusky diva of Bollywood, but her recent appearances at public event has surprised onlookers. The 39-year-old actress looked very fair when she attended the trailer launch of "Mighty
Raju
Rio Calling".
Kajol
looked gorgeous in a yellow top with a brown floral printed skirt. But it was the fairer complexion that became the talk of the town. Her fairer look gave rise to
rumours
that she has undergone surgery to look fair. A Sahara
Samay
report says that the "
Kuch
Kuch
Hota
Hai
" actress has undergone skin melanin surgery to get the fairer look. Not only at the trailer launch, the actress looked fairer when she appeared on chat show "
Koffee
With Karan" season 4 along with her cousin
Ayan
Mukherjee
. Even in several TV advertisements the actress looks fair.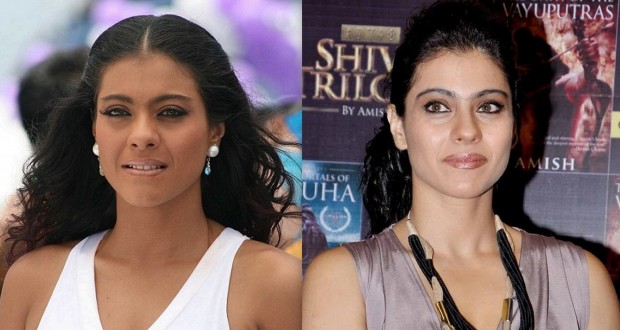 The actress might have undergone the surgery to change her skin tone, but she is not the only one who went under the knife to change her look. Several B-town actors and actress have undergone cosmetic surgery. Earlier this year,
Anushka
Sharma was in news for her lip job controversy. When Sharma appeared on the "
Koffee
With Karan" she was spotted with plump lips. The actress later in an open letter revealed that she has been using temporary lip enhancing tool for her film "Bombay Velvet". "For a short while now I have been using a temporary lip enhancing tool and that along with make up techniques ( I have learnt over the years) is the reason why there might be a change in the appearance of my lips," she said. Stars inducing
Priyanka
Chopra,
Salman
Khan,
Aamir
Khan,
Sushmita
Sen,
Ranbir
Kapoor
, Shah
Rukh
Khan and others have gone under knife to enhance their looks. Chopra has publicly denied going for surgery, but her nose and lip job is quite evident when compared her present looks to past looks.
Salman's
receding hairline and bald patches was the talk the talk of the town. He apparently went to Dubai to get a hair transplant. Shah
Rukh
is said to have done Botox to do away with wrinkles too.