Bollywood is angry with the country's censor board, yet again. While actors and filmmakers have condemned the Central Board of Film Certification (CBFC) for demanding the removal of any reference to Punjab in "Udta Punjab" -- a forthcoming film on the drug issue of the state -- its co-producer Anurag Kashyap has said the situation is as dictatorial as living in North Korea. The CBFC -- chaired by the BJP-appointed Pahlaj Nihalani -- is said to have reportedly demanded an alteration of the narrative with as many as 89 cuts. The makers were apparently even asked to drop 'Punjab', and suggested that the film be set in a fictitious setting instead of a particular state. Reacting to this, Kashyap commented on Twitter: "There is no film more honest than 'Udta Punjab'. And any person or party opposing it is actually guilty of promoting drugs". He then took on Nihalani, calling him a "dictatorial man", who operates "like an oligarch", bringing the North Korea feel to India. "I always wondered what it felt like to live in North Korea... Ab to plane pakadney ki bhi zaroorat nahin (Now I don't even need to catch a plane)," Kashyap tweeted, alluding to the dictatorial regime in North Korea.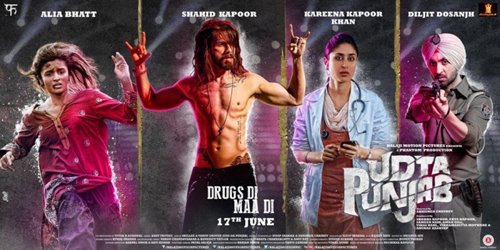 The CBFC's demand for alterations in the Abhishek Chaubey directorial is likely to have been made under pressure from the ruling Akali Dal-BJP coalition in Punjab, where the extent of the substance abuse is placed by several surveys at over 70 per cent of the state's 2.8 crore population. And the release of the movie when the state is less than nine months from the assembly elections is likely to be seen as politically disastrous for the state's ruling party. The controversy around the film also took a political twist when Aam Aadmi Party (AAP) supremo Arvind Kejriwal tweeted "I completely agree" to Kashyap's tweet on his film being an "honest" representation. Even Congress Vice President Rahul Gandhi come out in support of the film fraternity, tweeting on his official Twitter handle Office of RG: "Punjab has a crippling drug problem. Censoring #UdtaPunjab will not fix it. The government must accept the reality and find solutions." However, Kashyap requested "Congress, AAP and other political parties to stay out of my battle". "It's my Rights vs the Censorship. I speak only on my behalf... It's my fight Vs a dictatorial man sitting there operating like an oligarch in his constituency of censor board, that's my North Korea." Kashyap also said that his fight was not political. "Please don't colour my fight with any political affiliation because there is none." "Udta Punjab", which Anurag Kashyap's Phantom Films has co-produced with Balaji Motion Pictures, stars an ensemble cast of actors like Shahid Kapoor, Alia Bhatt, Kareena Kapoor Khan and Diljit Dosanjh.
Slated to release on June 17, it dwells on how the youth of Punjab have succumbed to drugs. The industry at large supported the makers. Veteran actor Jeetendra of Balaji Motion Pictures, who calls himself a "proud son of Punjab", asserted that the film is not made to defame the state. Sharing his father's message with twitterati, Tusshar Kapoor wrote: "Jeetendra: We respect the people of Punjab and certainly would never want to hurt their sentiments. We have and will always go by whatever right advice the CBFC gives! Films are for entertainment, not for defamation and we have no such intention as I, myself, am a proud son of Punjab." Bollywood celebrities like Mahesh Bhatt, Hansal Mehta and Karan Johar also slammed the CBFC for its unwarranted diktat. "Censorship is the child of fear and the father of ignorance. Is Pahlaj Nihalani listening," Bhatt wrote. A "very, very angry" Mehta questioned, "Why is the establishment so scared of films that mirror reality? Can the truth defame a state?" Filmmaker Nikkhil Advani said: "I guess the next step will be to submit scripts for censorship. 'Udta Punjab' censored." Actress Soha Ali Khan commented: "Anyone who says that drugs are not a problem in Punjab, is either unaware, complicite or has mala fide intention." Filmmaker Shekhar Kapur opined, "Apparently the Indian censor board believes there is no drug problem amongst the youth of Punjab."